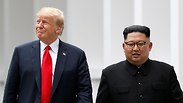 US President Donald Trump and North Korean leader Kim Jong-un
Photo: Reuters
Iranian government spokesman to Kim: Trump may nullify deal
In first remarks by an Iranian official after US president and North Korean leader conclude their summit in Singapore, Mohammad Bagher Nobakht quoted as saying, 'We are facing a man who revokes his signature while abroad'; Russia and China, meanwhile, provide positive assessments of summit.
A spokesman for the Iranian government warned North Korean leader Kim Jong-un on Tuesday that US President Donald Trump could nullify any nuclear deal with North Korea.

The semi-official Fars news agency quotes Mohammad Bagher Nobakht as saying, "We are facing a man who revokes his signature while abroad."

Nobakht's remarks are the first by an Iranian official after Trump and Kim concluded their Singapore summit.

While flying for talks with Kim on Sunday, Trump rejected an agreement signed by the leaders of the G-7 countries at their summit in Canada.

The US also pulled out of the landmark 2015 nuclear deal with Iran.

China said Tuesday it hoped North Korea and the United States could reach a basic consensus on denuclearization.

"At the same time, there needs to be a peace mechanism for the peninsula to resolve North Korea's reasonable security concerns," China's top diplomat, state councilor Wang Yi, told reporters in Beijing.

Russia's deputy foreign minister said the Kremlin had a positive assessment of the summit but "the devil is in the details", the Tass news agency reported.

If the summit does lead to a lasting detente, it could fundamentally change the security landscape of Northeast Asia, just as former US President Richard Nixon visit to China in 1972 led to the transformation of China.

But Li Nan, senior researcher at Pangoal, a Beijing-based Chinese public policy think tank, said the meeting had only symbolic significance.

"There is no concrete detail on the denuclearization of the Korean peninsula and the provision of security guarantees by the United States," Li said. "It is too early to call it a turning point in North Korea-US relations."