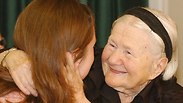 US teacher honored for highlighting Polish Holocaust hero
High school teacher Norman Conrad produced a play with his students in 1999 about Irena Sendler, a Polish woman who saved hundreds of Jewish children during the Holocaust. In 2018, he was presented with the 2018 Irena Sendler Memorial Award in Warsaw's Royal Castle.
An American teacher who together with his students shed light on the story of a Polish woman who saved hundreds of Jewish children during the Holocaust has been honored with the award that bears her name.

Irena Sendler and her story were largely unknown until Norman Conard and his high school students in rural Kansas began producing a play about her, "Life in a Jar," in 1999 as part of a history project on unsung heroes.

The play has since been performed 375 times around the world, movies have been made, schools in Poland and Germany have been named after her and she was nominated for the Nobel Peace prize.

Poland's Culture Ministry and the San Francisco-based Taube Philanthropies presented Conard with the 2018 Irena Sendler Memorial Award in Warsaw's Royal Castle. Poland has designated 2018 the Year of Irena Sendler, to mark the 10th anniversary of her death at the age of 98.

Culture Minister Piotr Glinski described Sendler as a symbol of the many other brave Poles who risked their lives for others during World War II, many of whose names will never be known.

A social worker, Sendler directed an underground network that saved Jewish children by placing them in orphanages, convents and with Christian families. In many cases, the network's volunteers smuggled children out of Warsaw's ghetto after convincing parents it was the children's only chance of survival.

Sendler and her collaborators buried the names of the children in jars, hoping to later reunite them with their parents. In most cases the parents were murdered in Treblinka.

Though recognized by Yad Vashem in 1965, Sendler was largely unknown before Conard became involved.

Poland's chief rabbi, Michael Schudrich, said Sendler credited Conard and his students with the recognition she obtained late in life and often referred to the American students as her children.

In a chilling coincidence, the Kansas students began researching Sendler on the same day—Sept. 23, 1999—that Sendler's beloved son Adam died of heart failure, Conard said. In letters to the students, Sendler used to address them as "my dear and beloved girls, very close to my heart."

Conard described Sendler as a woman of courage and humility who always sought to deflect attention from herself.

"She would want all of her network to be recognized. And she also said that the real heroes were the Jewish parents and grandparents, who were making decisions that no one should have to make," Conard told The Associated Press before the ceremony.

"Some of the parents refused to give their children up, and when she went back to talk to them again, the children and parents had been taken away on the trains," he said.

"This is her award, and it's to recognize her," said Conard, now the director of the Lowell Milken Center for Unsung Heroes in Fort Scott, Kansas.