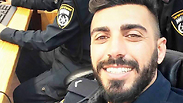 Commemorative run for cop killed in Temple Mt. terror attack
Family of Staff Sgt. Maj. Ha'il Satawi, a Druze policeman, who was killed along with his partner Kamil Shnaan last July on Temple Mount, invite public to join them on annual Ramos Run in his memory, named after his son born 3 weeks before the attack.
The family of Staff Sgt. Maj. Ha'il Satawi, who was killed in a terror attack on the Temple Mount last year, is inviting the public to participate in a run in his memory. The run is named for Ha'il's son Ramos who was born three weeks before the attack.

The Satawi family, from the northern Druze town of Maghar, announced that the run will be held on Saturday, July 14, the anniversary of the attack during which three terrorists armed with guns entered Jerusalem's Old City and shot at police guarding the Temple Mount complex. Satawi was killed along with his partner Staff Sgt. Maj. Kamil Shnaan of Hurfeish.

Satawi is survived by his wife and a three-week-old baby, Ramos, named after the Spanish footballer he admired.

Ha'il's father, Afif said he is inviting all of Israel to participate in the run.

"Running cleanses the body, purifies the heart and the soul and spreads love to all those around. The family's goal is to spread the message of a peace-seeking ethnic group and the run is meant to convey the sporting spirit of Ha'il," said Zohar Araida, a close friend.

"The goal of the run is to convey, to future generations, the heroic spirit of Ha'il and the heavy price he paid for guarding the homeland and the Temple Mount, the holiest place for us all," Araida added.

Afif also noted that the family is now marking Ramos's first birthday. "For us this is a bitter-sweet day. On the one hand it's the birthday of my beloved grandson who means the world to me, on the other hand it's a year since my dear son was killed. After deliberating, the family has decided that this is not the time to celebrate, for Ramos it is an ordinary day," he said.

The run will take place in Maghar and pass by the home of Ha'il in the neighborhood of Released Soldiers. Runners can choose between an easier two-kilometer route, or a more advanced four-kilometer track. Saucony sportswear is sponsoring the first annual Ramos Run and is assisting the family in its organization.

.