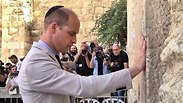 Prince William at the Western Wall
Photo: Kontact
The British tabloid newspaper The Mirror quoted on Sunday a "highly-placed Palace source" as saying that Prince William's recent visit to Israel and the Palestinian territories has had such a profound impact on him that he now considers bringing peace to the Middle East as "his lifelong project".

The report, while not quoting the prince directly, claims that the 36 year old was especially moved by "the suffering endured by youngsters" in the Middle East and that the Duke of Cambridge is "determined to solve the region's long-simmering mutual hostility."

The Mirror reports that before William's official visit to the region—the first ever embarked upon by any member of the Royal Family—he asked his staff to give him an overview of the history of the conflict and of previous rounds of peace talks.

At the end of the trip he reportedly told his aides "This is the start of something new. I will forever honour my commitments to the people I have met."

The source also revealed: "The politicians who affect this younger generation's lives may only be in office for five, 10 or 20 years—but William knows his duty is for life."

"The visit had a profound effect on the Duke. The places he visited, the people he met and the stories he heard have all moved him very deeply," the source is directly quoted.

"He spoke at length to his advisors of how the young people affected by the region's troubles need hope in order to be able to look forward to a brighter future. William is a young, intelligent man who is very in tune with the politics of the world. No one will forget when he told the Palestinian people they have 'not been forgotten," continued the insider.

"He has often thought about his mother's legacy and hopes his efforts will now lead a new chapter for future generations to enjoy," the source concluded.

The Duke also visited several refugee camps in Ramallah and the West Bank and was especially touched by the stories of the young people the Jalazone camp, who told him about "high unemployment and frequent clashes with a nearby Israeli settlement", reports The Mirror.