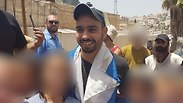 Elor Azaria
Photo: Tzipi Schlisel/TPS
Two months after being released from prison for shooting dead a neutralized terrorist in Hebron, former IDF soldier Elor Azaria arrived at the scene of the incident for the first time since it took place in March 2016, where he was greeted by local Jewish residents who broke into song and dance.

Azaria, who was convicted of manslaughter after shooting dead Abd al-Fatah al-Sharif after he carried out a stabbing attack in which the former soldier's friend was stabbed, was released from prison after serving a nine-months sentence.

Visiting the Jilber blockade where the shooting took place, Jewish residents of Hebron gave Azaria a hero's welcome, singing "This is a victory to the people of Israel." Smiling as the crowds surrounded him, Azaria later met with right-wing activist Baruch Marzel.

During his visit, Azaria met Hebron residents who testified in his favor during his trial, including medic Ofer Ohana and Ashi Horowitz, the operations officer of the Jewish settlement in Hebron. The former soldier also toured the Cave of the Patriarchs and the local museum.

According to sources in Hebron, the Jewish community was not aware of his visit in advance, but when it was brought to their attention, many members arrived at the scene, blessed Azaria and celebrated his return.

"Elor Azaria, I want you to know how much the people of Hebron love you," the crowd sang.

Elor Azaria in Hebron (צילום: חברים לשעת צרה)

"We are happy that Elor Azaria is walking freely in the streets of Hebron, and that the wretched terrorist who came here on Purim is now in the ground. This is a victory to the people of Israel," said Horowitz.

"Elor was excited, he did not forget that Hebron residents stood by his family throughout this ordeal, and he thanked us," he continued.

Commanders at Prison 4 in Tzrifin decided to grant his request after he met the terms that allow early release under such circumstances.