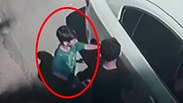 Abduction of Karim Jumhour
A dramatic video showing the kidnapping of seven-year-old Karim Jumhour of Qalansawe Tuesday has emerged, with footage showing him being suddenly snatched and zoomed away in a car.

Karim was playing with a young relative outside his home when a vehicle pulled up and the driver asked the boys a few questions before a masked man emerged from the vehicle and forced the boy into the car, before they fled the scene. Karim's friend then ran into the house screaming "a kidnapping!"

The Jumhour family says that had the other boy not been present they would not have known Karim was kidnapped. Authorities suspect the boy was taken to the West Bank.

Kidnapping of Karim Jumhour

Town elders are trying to locate the boy's whereabouts. "God willing, the boy will be returned to his family safe and complete today," said a hopeful local.

The boy's father Jaber told Ynet: "They (the kidnappers) asked for four million shekels in return for the boy, and I do not want to pay. I am waiting for the boy to return safe and whole."

Police, who lifted censorship of the incident Wednesday afternoon, are working tirelessly to locate Karim as the family struggles to cope with the tragedy which they say has deprived them all of sleep since the incident.

Dozens of Qalansawe residents staged a demonstration outside the Kadima Police Station in solidarity with the family. They held signs saying "We are all Karim." Residents are also at the Jumhour home trying to comfort the family.

Qalansawe Mayor Abdulbast Salameh was there as well. "This is a shocking incident, we can't sit idly by," the mayor said. "At this stage, we have no details about the child's condition. We are waiting for good news, the most important thing is the return of the child."

Issam Tayeh, a Qalansawe resident said, "This incident crossed all red lines. This boy is like a son to all of us. The sorrow has penetrated to each and every home in Qalansawe. We feel abandoned."

"We pray for the boy to come back to his family and urge the kidnappers to return him as soon as possible," he added.