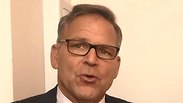 Jerry Silverman
Photo: Jewish Federations of North America
Jerry Silverman, the president and CEO of the Jewish Federations of North America, strongly condemned Thursday the controversial Nationality Law, under which only Jews have the right for self-determination in the State of Israel.

"As strong supporters of Israel, we were disappointed that the government passed legislation which was effectively a step back for all minorities," Silverman wrote in a post on the JFNA Facebook page.

Silverman, who is considered one of the more prominent and important Jewish Diaspora leaders, also expressed solidarity with the Druze community, who feel excluded by the law, urging Israeli legislators "to work with the community as soon as possible to address their very real concerns."

He added that "At the Jewish Federations conference in Tel Aviv in October—the General Assembly—we will address how Federations are working to help integrate minorities more fully into Israeli society."

After discussions with Druze leaders, the Prime Minister's Office released an outline proposal that was called in an effort to allay fears that the Nationality Law will impinge on their equality and basic rights. But Druze leaders decided not to accept the proposal and continue their struggle for full recognition as equal citizens.

On Thursday evening, Prime Minister Benjamin Netanyahu abruptly ended a meeting with Druze leaders after one of them, Brig. Gen. (res.) Amal Asad, called Israel an "apartheid state" in a Facebook post, further exacebrating the strain in ties between the State of Israel and its loyal Druze minority group.

Earlier this week, the Nationality Law came under criticism by former Likud Minister Dan Meridor, who called the legislation "unnecessary, harmful and mostly disgraceful."

"Our constitution is the ID of all citizens in the country. Everyone should be proud of it. But it's not just Arab or Druze citizens, I too cannot be proud of this Basic Law. I'm ashamed of it," said Meridor, the former justice and finance minister.

"The State of Israel is indeed the nation state of the Jewish people, but it must have full equality for all of its citizens," he continued.

"As a Jew whose people lived as a minority for 2,000 years, I am ashamed that in our country's Basic Laws, this government is not willing to write the most basic principle: All people are equal before the law," Meridor added.

"One must not be discriminated against over religion, nationality, race, gender or sexual orientation. All citizens, including Druze who serve in the army and Arabs who don't, are full citizens and the State of Israel is their only state."

He also called on the Israeli government to cancel the law.