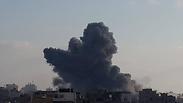 Many cultural events in southern Israel were cancelled on Thursday amid the escalation of hostilities in Gaza, with summer day camps and other activities in doubt as well.

In the Merhavim Regional Council, all summer day camp activities have been limited to indoor venues that are adjacent to shelters. In Netivot, all educational and summer day camp activities will be confined to authorized shelters.

The Home Front Command also said that public services will be held in a limited format and that only gatherings of up to 300 people are allowed.

The Zikim Beach has also been closed, while Sapir College, located near Sderot, has canceled all classes and exams.

Agricultural work is also prohibited, and rail traffic between Ashkelon and Sderot has been halted. For now, northbound trains will stop at the Ashkelon station and southbound trains will stop in Netivot.

After a security assessment, a Queen tribute show has been cancelled. The 2,500-spectators event was planned to take place Thursday evening in Ashkelon, and will be postponed to a date yet to be decided.

The Be'er Sheva Southern Lights Festival, which brings thousands of people to the old city, was at the risk of being cancelled after a rocket was fired at the city on Thursday afternoon, but organizers eventually decided to hold it as planned.

A qualification semi final Europa League soccer match between Hapoel Be'er Sheva and Cypriot Apoel Nicosia was also at risk of being postponed, but went ahead as planned. The game attracted some 10,000 spectators.

After holding consultations with the IDF, the southern tourism association Shiqma Bsor announced earlier Thursday that it is cancelling the the traditional hot-air balloon festival planned to take place in the Bsor National Park over the weekend. Months of preparations have gone up in smoke; 4,000 tickets to the festival have already been sold, and the damage to tourism in the area is estimated to be millions.