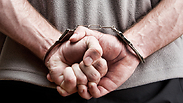 File photo
Photo: Shutterstock
Israeli may face death sentence in Belarus
Alan Levit, who immigrated to Israel in 1991, is suspected of robbing and murdering a man in Minsk in 1993; German authorities arrest him in Frankfurt due to Interpol arrest warrant; lawyer tries to bring him back to Israel to face trial, where he won't face capital punishment.
An Israeli man was arrested in Germany a week ago at the request of Belarus authorities on suspicion of involvement in a murder that took place 25 years ago.

The suspect, Alan Levit, 46, from Bat Yam, landed in Frankfurt with his son, where he was told there was an international arrest warrant against him issued by Interpol.

Levit immigrated to Israel from Belarus in 1991. Despite that, a decade ago, investigators from Belarus arrived at his home in Israel to question him about a murder that took place in 1993 in Minsk.

His lawyer, Gregory Kurziner, said the Belarusian investigators suspect Levit traveled to Belarus with a partner with whom he robbed and murdered a victim at his home.

Levit denied the suspicions against him, and has not heard anything more about the investigation since.

The Interpol arrest warrant notes that on March 16, 1993, a man was murdered in his apartment in Minsk after having been robbed by two people. He was found dead with 16 stab wounds on his neck and face.

Kurziner told Ynet he was worried that if Levit is extradited from Germany to Belarus, he could face the death sentence, which is the maximum punishment for such on offense in Belarus. There is no statute of limitations on the murder.

"The court in Germany can decide whether to extradite him. Israel doesn't turn in someone to a country that has the death penalty," the lawyer said.

Kurziner turned to Israel's Foreign Ministry and the Israeli consulate in Munich for help in bringing Levit to Israel to face trial.