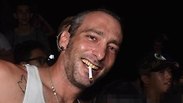 The suspect, Oren Shlomo Mayer
Photo: Oren Shlomo Mayer's Facebook page
Israeli-American suspected of murder in Taiwan flees country
Oren Shlomo Mayer allegedly murdered a Canadian teacher in a drug-related dispute. With the help of an accomplice, Mayer allegedly dismembered the body before escaping to the Philippines disguised as a backpacker; His accomplice confessed the crime, and local authorities expect Mayer to be extradited soon.
An Israeli-American citizen who is suspected of the murder of a Canadian English teacher in Taipei has managed to escape Taiwan to the Philippines, but faces extradition.
The suspect, Oren Shlomo Mayer, 37, was identified by the Taipei authorities as a tattoo artist. He allegedly committed the murder with the help of an American citizen, before fleeing to the Philippines.
According to media reports in Taiwan, Canadian teacher Ramgahan Sanjay Ryan was murdered last week following a dispute between drug dealers.
Mayer, known as "Oz" in Taipei, ambushed the victim together with his accomplice, Ewart Odane Bent. The two men then murdered Sanjay and dismembered the body. The dismembered body was discovered in a local park on August 22.
Local police say Mayer, who is described by local media as "the biggest marijuana dealer in northern Taiwan," was captured on security cameras when he entered a local supermarket with his accomplice. The two bought beers to celebrate the murder.
Disguised himself as a backpacker and fled to the Philippines
Last Saturday, Taipei Police arrested Bent, who confessed to the murder and testified against Mayer, who fled to the Philippines on August 25.

Security cameras captured Mayer arriving at the Taipei International Airport disguised as a backpacker. He managed to get on a flight to the Philippines, which has an extradition agreement with Taiwan. Consequently, Mayer may be extradited to Taiwan soon.

According to local news agencies, Mayer was born in Israel and grew up in the United States. In 2015, he completed an internship in Los Angeles and moved to Taiwan.

During his first couple of years in Taiwan, Mayer worked as an English teacher for children aged 2 to 12. In 2017, he set up a tattoo shop in the Taiwanese capital.

The investigation revealed that his friend Bent had been invited to Taiwan to assist Mayer in his expanding drug deals.

The two men used to spend time at a local nightclub, where they met Sanjay, who served as the club's public relations agent. The victim introduced himself as an English teacher, but the police believe he was also dealing drugs.

During police questioning, Bent claimed Mayer had advised him to run away to the Philippines with him, but he refused, since he believed local authorities will never find out the truth.

According to the Ministry of Foreign Affairs in Jerusalem, "the media reports in Taiwan have been brought to our attention. We have no information to offer beyond that."