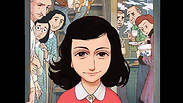 The owner of the recently opened Anne & Frank Bakery in Amsterdam has said he is considering changing the name of his business in light of criticism that the name was tasteless.

The owner, Roberto, explained to the Dutch media that "it seemed like a nice name to me," and that he meant no harm adding: "Anne is a hero for me too."

The bakery is located in the same neighborhood as the Anne Frank House, where the Jewish teenager hid from the Nazis with her family during World War Two.

Anne Frank and her family were discovered by the Nazis in August of 1944 and deported to Auschwitz. Anne was later sent to the Bergen Belsen concentration camp, where she succumbed to typhus in early 1945, at the age of 15.

The diary she kept before and during her years in hiding has become a worldwide bestseller and has been translated into 67 languages.

In May, the Anne Frank Museum revealed two previously unknown pages from the diary that had been hidden behind brown sticky paper.

Anne seemingly hid the pages because she feared that the others who were hiding with her in the attic would read the pages, which contained crass jokes and musings about sex, contraception and prostitution.

Anne Frank wrote the two pages on the September 28, 1942, at the age of 13. It was only three months after she and her family went into hiding in Amsterdam.