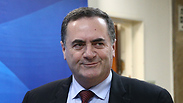 Minister Yisrael Katz
Photo: Ohad Zwigenberg
Intelligence Minister Yisrael Katz said at the beginning of the week that if Iran chooses to continue pursuing a nuclear program it will face a "military" answer from the US and its allies.

Katz was responding Sunday to the Iranian nuclear chief's warning that the Islamic Republic's program stands ready to build advanced centrifuges and further enrich uranium.

In an interview with The Associated Press, Ali Akbar Salehi says Iran won't be deterred by President Donald Trump's sanctions and withdrawal from the global nuclear deal.

Katz says if Iran presses forth it will face a "direct threat from the United States and its allies."

The US withdrawal from the deal has already badly shaken Iran's economy, crashing its currency, the rial. Katz says Iran can either succumb to Trump or watch its economy collapse

Kat'z comments were not the first time Israel has indicated its willingness to strike Iran directly.

In February, Prime Minister Benjamin Netanyahu said that Israel would act against Iran, not just its allies in the Middle East, if needed, reiterating that Tehran was the world's greatest threat.

Holding a piece of what he said was an Iranian drone after its incursion into Israeli airspace earlier this month, Netanyahu told the Munich Security Conference: "Israel will not allow the regime to put a noose of terror around our neck."

At the end of August, Netanyahu visited the Negev Nuclear Research Center near Dimona and warned the country's enemies that Israel has the means to destroy them, in what appeared to be a veiled reference to the country's assumed nuclear arsenal.

"Those who threaten to wipe us out, put themselves in a similar danger, and in any event will not achieve their goal," the prime minister said during a ceremony to rename the nuclear research center after the late Israeli statesman Shimon Peres. "Our enemies know very well what Israel is capable of, they know our policy, and anyone who tries to harm us—we will harm them," Netanyahu added.