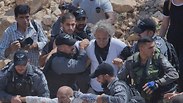 Israel has released an American law professor detained for allegedly trying to block IDF troops in a West Bank village slated for demolition which Israel says is illegal.

The 66-year-old Frank Romano, who reportedly also has a French citizenship, was detained on Friday in the embattled village of Khan al-Ahmar, along with two Palestinian activists.

Romano was found standing in front of heavy equipment being used to clear barriers that had been set up to slow demolition, witnesses said.

Khan al-Ahmar is located beside an Israeli highway that runs through the West Bank from Jerusalem to the Dead Sea.

Israeli police said three people were detained for causing disturbances.

Romano was initially taken to a West Bank police station where he briefly met with activists from an Israeli-Palestinian group, "Combatants for Peace".

Nahoum Oltchik, a member of the group, said Romano told him he started a hunger strike and would refrain from eating until Israel halts plans to demolish a hamlet of 180 Palestinians.

Gaby Lasky, Romano's lawyer, said a court ordered his release Sunday. She said he was freed early Monday after police decided not to appeal the decision.

Upon his release, Romano returned to the village and said: "I can continue the struggle with you."

Israel is expected to demolish the village in the coming days.

Last week, the High Court of Justice rejected petitions to prevent the move, paving the way for Khan al-Ahmar's potential demolition.

Israel says Khan al-Ahmar was illegally built and in an unsafe location near a major highway and has offered to resettle its 180 residents to a site 12 km (7 miles) away under improved conditions.