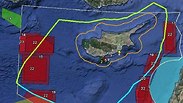 Russia's flight restrictions map
Russia closes some aviation routes near Syria after plane downing
After Syrian air defense accidently shoots down a Russian aircraft, killing 15 crew members on board in attempt to intercept Israeli airstrike, Moscow issues temporary flight restrictions map as it prepares for military exercise in Cypriot airspace and adjacent to Syria.
Russia published flying restriction orders on Wednesday limiting flights in Cypriot airspace and over the areas adjacent to Syria following the Syrian downing of a Russian plane on Monday that killed the 15 personnel on board.

Syrian air defenses shot down the plane while trying to intercept an Israeli attack on a military site in the coastal city of Latakia.

The flight limitation, which was imposed as the Russian prepare for a military exercise, will also include many naval zones in the area and will last until next Wednesday.

The drill may affect certain aviation routes which are under Cyprus's jurisdiction, including flights to Israel, Lebanon and Syria.

"Several aviation routes will be closed due to a military exercise carried out by the Russian navy," a Russian statement read.

"In addition, several routes will be closed to flights amid rocket firing tests conducted by Moscow," it added.

The flight limitations map shows that there were no restrictions in the area a day before the Russian Il-20 reconnaissance aircraft was downed 35 kilometers (22 miles) off the coast as it was returning to its base nearby.

However, since Tuesday, many areas in the vicinity of Syria and the Middle East shores have been closed to flights, with Russia instructing those flying in the aforementioned airspace to fly below 19,000 feet.

The IDF said that "Russia has published that certain aviation routes will be closed for a limited time, which will require coordination with other aerial activity taking place in Cyprus and adjacent to Israel.

"These restrictions do not affect the military and civil flights in the Middle East airspace. It should be stressed this is not the first time such restrictions have been imposed and that they are termporary," the IDF added.

Meanwhile, the Russian Defense Ministry announced Wednesday it has commenced upgrading the security on its military bases in Syria using automatic control tools.

Russian Deputy Defense Minister Yury Borisov said, "President Vladimir Putin instructed to bolster security on our bases in Tartus and Khmeimim."

Attack on Latakia

Syria's SANA news agency reported on Wednesday that Assad had sent a telegram to Moscow saying he was sorry about the death of Russian military service people, but blamed Israel for the downing.

"This unfortunate event is a consequence of Israel's arrogance, which always applies the ugliest methods to achieve its goals and implement its aggression in the area," Assad said in the telegram.

In a bid to calm tensions between Jerusalem and Moscow, an IDF delegation headed by the IAF's Commander Amikam Norkin departed for the Russian capital to explain what led to the deadly mishap.

According to a statement put out by the IDF before the meeting, Norkin and his delegation would present pictures to Russian officials showing the circumstances surrounding the incident, along with preliminary conclusions on the ongoing IDF investigation into the matter.

In addition, Norkin "will show Iran's continued attempts to transfer strategic weapons to Hezbollah and to its entrenchment in Syria."

Citing Israeli sources, the London-based Asharq Al-Awsat newspaper said that Iran assumed Israel would not attack in Latakia because of Russia's heavy presence in the area, and therefore bolstered its activity there.

The source added "Israel launched missiles to destroy new Iranian weapon shipped to Syria to be used against Israel by Hezbollah and other Iranian militias.

"Iran had built warehouses and weapons development facilities as well as workshops to improve existing arms," the source explained.

During the first hours after the incident, Israel was concerned Russia's anger may prompt Moscow to unequivocally demand that Israel halts all of its military activity in Syria.

Relations grew increasingly frosty after Russia's Ministry of Foreign Affairs summoned on Tuesday charge d'affaires of the State of Israel in Moscow K. Cohen-Gat.

During the conversation, Deputy Foreign Minister of Russia Sergey Vershinin emphasized that Moscow views as irresponsible and unfriendly the actions of the Israeli Air Force, which exposed the Russian Il-20 aircraft to danger.

Vershinin stressed that the Russia would take all necessary measures in order to eliminate any threat to life and security of Russian military personnel, which assists the Syrian regime.

"Russia calls upon Israel to avoid similar incidents in the future," the Kremlin said in a statement.

Israel says its policy is against Iran's entrenchment in Syria and maintains that smuggling of advanced weapons has not changed.

However, some say it is still early to tell how the incident and its ramifications will affect Israel's freedom of action in the war-torn country.