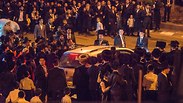 Haredi protest
Photo: Yuval Hen
A 27-year-old woman from Tel Aviv was attacked during a violent ultra-Orthodox demonstration between Ramat Gan and Bnei Brak on Friday, but managed to escape with the help of a young Haredi couple.

In her Facebook post, Shir Feferbeg recalled how hundreds of Haredim charged at her vehicle, hit her, spat, and threw chairs at her.

Violent Haredi protest near Bnei Brak

After she contacted the police, a Haredi couple came to her rescue and took her to their house.

"I have no way of freeing myself from the lynch I went through during the past two hours and it will take me along time to calm down," she wrote.

"I arrived this afternoon at Terem emergency medical center on Jabotinsky Street on Ramat Gan adjacent to Bnei Brak to receive my prescription," she addded.

"When I entered my vehicle to go home, I realized I was in a jam. I was caught in a Haredi demonstration that has lost control.

"It did not take long before hundreds of Haredim gathered around me, spat at my vehicle, climbed on top of it while hitting it and shouting "Shabbes" (Shabbat in Yiddish).

"I called my mother and she heard everything that was going on and sensed my panic. She told me to call the police," the 27 year old explained.

"I called the police emergency line. A nice police officer told me they are aware of the demonstration. I tried to explain that I'm in danger and that I need help," she said.

"The police officer replied that someone will call me back. After five minutes, I called the police again because one of the demonstrators climbed on top of my car and started banging on my windshield."

According to Feferbeg the police told her that they were unable to deal with the situation at that moment due to the fact that all roads were blocked. The police also told her, she said, that they had lost total control over the demonstration and that she should stay on the line.

"'Nice' Haredim brought plastic chairs to throw at my windshield," she continued. "At the same time, a young Haredi couple that saw me in distress from their window pulled me out of the vehicle through the window into their home, with the demonstrators shouting and screaming at them and me."

"Luckily, I came across good people who saved me at the last minute. I'm ashamed my country looks like this. We have the same God. I'm the granddaughter of Odessa's Chief Rabbi Yaakov HaLevi Gliksberg," the woman said.

"Apparently evil has no limits. I'm hoping for a change," she stated.

In an interview with Ynet, Feferbeg said, "Proper behavior precedes the Torah. Where are the rabbis? I would like to know what they think about this kind of violence. I was alone in my vehicle, this is a life-lasting trauma," she lamented.

The police issued a statement saying that its forces "dealt with a mass demonstration, with the attendance of thousands of demonstrators."

"Hundreds of policemen and Border Police officers were deployed in the area. A police force was immediately called to rescue citizens who reported they were sensing danger.

"In Shir Feferberg's case, police forces were sent to search for her since she didn't state the exact location where she was attacked," the police statement explained.

"The recorded conversation with the emergency hotline five minutes after the initial report of the incident shows the forces resumed routine after Feferberg said she had willingly gone with two civilians and that she was not in any danger," the statement concluded.