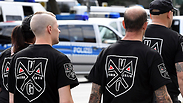 German far-right demonstrators
Photo: AP
German police have arrested seven men on suspicion of forming a "far-right terrorist organization" in Chemnitz, where neo-Nazis attacked a Jewish-owned restaurant last month, officials said Monday.

Six of the men, all German citizens aged between 20 and 30, were arrested Monday by tactical police units in Saxony, the state in which Chemnitz is located, and Bavaria, federal prosecutors said in a statement.




A seventh suspect— 31-year-old German citizen identified as Christian K. for privacy reasons —was arrested in a separate case last month.

The suspects are the alleged founders of "Revolution Chemnitz", a far-right group operating in the the eastern city of Chemnitz, where a violent far-right, anti-Semitic mob hurled rocks, bottles and a metal pipe at a kosher restaurant on August 27.

Far-right demonstration in Chemnitz (צילום: רויטרס)

While chanting "get out of Germany, Jewish pigs", and "we are the people," a slogan used by far-right supporters, the demonstrators smashed the restaurant's window and vandalized the entrance.

The owner, Uwe Dziuballa, suffered an injury to the shoulder during the attack, the reports said.

The kosher restaurant, which opened in 2000, has been attacked several times before.

Although prosecutors didn't specify whether the suspects arrested are definitely linked to the attack, they said the men wanted to "carry out violent and armed attacks against foreigners and political enemies" as part of a plan to overthrow Germany's democratic order.

Five of the men—Christian K. and four others identified only as Sten E., Martin H., Marcel W. and Sven W.—allegedly attacked several foreigners in the center of Chemnitz on Sept. 14, armed with bottles, weighted "sap" gloves and a taser.

Prosecutors said the attack was a "test run" for another attack the men planned for Oct. 3, Germany's national unity day.

German Justice Minister Katarina Barley cited the arrest as further evidence of the threat posed by far-right extremists. "If the allegations are further substantiated, then investigators will have succeeded in conducting an important blow against far-right terrorism," she told the Funke newspaper group.

Violent far-right riots have erupted in the city since a German man was stabbed to death, allegedly by asylum-seekers, on August 26.

A 23-year-old Syrian is being held in custody on suspicion of manslaughter in the aforementioned case. An Iraqi man is also being sought over the killing.

"This is a new level of anti-Semitism. It's impossible not to compare this to what happened in the 1930s," The German Federal Commissioner to Combat anti-Semitism, Felix Klein said.

Germany's Central Council of Jews, Josef Schuster, said the attack shows "how strongly rooted right-wing extremism is in the region," adding that "attempts at appeasement and a lack of distancing from the right-populists play exactly into the hands of these forces.

The Chemnitz attack was the latest in a series of violent crimes by refugees that have garnered massive media attention and stoked anger at German Chancellor Angela Merkel's decision to allow in more than one million migrants and refugees since 2015.

After the German man was stabbed to death in August, thousands of local citizens and violent far-right members have taken to the Chemnitz mainly at night, with some seen flashing the illegal Nazi salute.

In several cases violent riots included attacks on police officers, journalists and passersby suspected of being migrants.

German chancellor Merkel condemned the demonstrations and said that the scenes from Chemnitz "convey a message of hatred towards innocent people."

"That was a horrible incident. What we saw afterwards is something that has no place in a state under the rule of law," she told a news conference in Berlin.

"We won't tolerate such unlawful assemblies and the hounding of people who look different or have different origins, and attempts to spread hatred on the streets," Merkel's spokesman Steffen Seibert told a regular news briefing.

"That has no place in our cities and we, as the German government, condemn it in the strongest terms. Our basic message for Chemnitz and beyond is that there is no place in Germany for vigilante justice, for groups that want to spread hatred on the streets, for intolerance and for extremism," Seibert concluded.