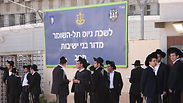 Ultra-Orthodox teens enlisting to the IDF
Photo: Motti Kimchi
At a meeting of the Likud ministers on Sunday, Prime Minister Benjamin Netanyahu said that no decision was made regarding the next elections and that no discussion were held with ultra-Orthodox party members about the draft bill.

"I hear they are asking about the elections's date... The answer is that no decision was made regarding the matter," Netanyahu said.

According to the High Court of Justice's ruling, by December 2nd, the Knesset must pass a new law regulating the enlistment of ultra-Orthodox civilians to the IDF.

The proposed draft bill threatens to dismantle the coalition and prompt early elections.

The Council of Torah Sages of Degel HaTorah, the Lithuanian faction of the United Torah Judaism party, is expected to convene on Monday or in the coming days in order to decide whether the party's opposition to the bill still stands, or if a compromise regarding the enlistment of the ultra-Orthodox population is possible.

In any case, the fact that none of the coalition members made any effort to reach a compromise or change the bill so it could pass into law, proves that the survival of the current government does not depend on solving the matter or upon the parties' willingness to compromise, but rather upon the will of the prime minister—who has yet to decide on the issue.

Members of the coalition estimate that if Netanyahu prefers early elections, he is expected to disperse the Knesset as close as possible to the date of the Knesset's winter session on October 15.