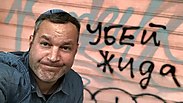 David Roitman next to spray-painted writing calling to 'kill Jews'
Photo: David Roitman
Anti-Semitic graffiti appearing in several locations across Ukraine has aroused concern among the local Jewish community.

David Roitman, a Jew who was born in Ukraine and immigrated to Israel, detected such a writing calling to "Kill the Jews," while visiting Odessa, one of the prominent cities in the east European country.

Roitman immediately posted a photo of the racist graffiti on his Facebook page that gained thousands of shares.

The writing was deleted the next day, and replaced by graffiti of three red hearts.

"My goal was for people to start talking about the ant-Semitic writings appearing across Ukraine, without fearing their neighbors will kill them, "Roitman told Ynet.

"We know what happens when people are silent. We've experienced it in 1933 and 1939," he added.

"Odessa is considered a main touristic location. Dozens of Israelis arrive here every year and dozens of Jews still reside in the city," Roitman elaborated.

Graffiti calling to kill Jews began popping out in Kiev, Ukraine's capital, as well as in other cities throughout the country.

Eduard Dolinsky, executive director of Ukrainian Jewish Committee, also shared several of the racist writings on his Facebook page.

Roitman stressed that in the past most of the writings said, "Clean Ukraine of Jews," and "Throw the Jews out of Ukraine."

He explained that Ukraine and its Jewish citizens remained silenced, leading to a rise in anti-Semitism, with graffiti now calling to "kill the Jews."

According to Roitman, those who deleted the writing were the ones responsible for it, claiming there is to other way for someone to find it without prior knowledge of its location.

He called on the Jews of Ukraine to publish every hateful writing they come across on social media, and not to look the other way in order to eradicate the phenomenon.