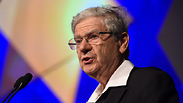 Supreme Court Presidents Emeriti Aharon Barak
Photo: Yair Sagi
Former Supreme Court president concerned for Israeli democracy
Aharon Barak says democratic rule is under threat throughout the world due to immigration and terrorism; he also attacks Justice Minister Shaked, warning 'a regime that rejects the separation of powers and human rights, is not a democratic regime.'
Supreme Court Presidents Emeriti Aharon Barak is concerned for the future of the Israeli democracy, which he believes is under threat, according to a speech he gave Tuesday at a conference marking the 70th anniversary of the State Attorney's Office.

"Our approach to this issue is that it cannot happen here and it is wrong. If it happened in Germany during the times of Bach, Goethe and Beethoven, it could happen anywhere," he stressed.

Barak elaborated on his frustrations, suggesting democracy is under attack all throughout the world.




"Democracy in the world today is under attack mainly because of problems with immigration and terrorism. If we do not defend democracy, it will not protect us," he exclaimed.

In his speech, Barak addressed Justice Minister Ayelet Shaked's remarks that if the Supreme Court repeals a basic law, it would equivalent to an earthquake.

"According to the speeches we hear, it seems that if the Supreme Court overturns a law passed by the Knesset—it would be the end of democracy," he said without explicitly mentioning Shaked by name.

"It is true that democracy is the rule of representatives of the people … But we must not forget that a regime that rejects the separation of powers, the rule of law, basic values ​​and human rights, is not a democratic regime," Barak vented.

Barak attacked Shaked's bill proposal to change the procedure in which the legal advisers of government ministries are appointed, accusing the government of wanting to minimize the influence of gatekeepers.

"When the idea is to turn the attorney general into a trust servant, with a minister in charge having a decisive influence on the choice, it is a grave violation," the former Supreme Court president warned.