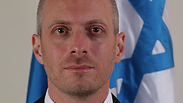 Judge Yaron Mintekovich
Photo: Courts Administration
East Jerusalem man calls judge 'Hitler,' simulates throat-cutting
A 32-year-old resident of Shuafat neighborhood is charged with making threats and insulting a public servant after he shouted offensive slurs at Judge Yaron Mintekovich and threatened to cut him 'by the throat'; the judge had been called a 'Nazi Hitler' during a hearing six years ago.
Imad Jit, a resident of the Shuafat neighborhood in east Jerusalem, was charged with endangering the life of Judge Yaron Mintekovich from the city's Magistrate's Court after he called the judge "Hitler" and threatened to cut him "by the throat," during a hearing last week.

The court extended Jit's detention until the end of the proceedings.

The 32 year old attended the court hearing regarding his case relating to property offenses and, according to the Jerusalem Police Prosecution Unit, had disrupted the proceedings multiple times.

Judge Mintekovich warned Jit that he is going to be removed from the courtroom if he does not restrain himself, which prompted the defendant to start shoting offensive slurs at the judge.

"I'll cut you by your throat. You're Hitler. You're a German," Jit shouted before proceeding to simulate throat-cutting, "I'll slit my own throat, you do not know me."

Following the hearing, the police opened an investigation, at the end of which, Jit was charged with making threats and insulting a public servant.

"His behavior violates the rule of law, undermines him and expresses a moral failure which endangered the public servant," said the police statement.

This is not the first time Judge Mintekovich has been involved in a violent incident that took place at his courtroom. About six years ago he was attacked by a young man whose detention he decided to extend.

The judge even pressed the panic button located on his chair and called the security guards prompting the defendant and his wife to yell: "Nazi, Hitler, we hope you get cancer."

Two months earlier, a detainee sent for a psychiatric examination attacked Mintekovich in the courtroom, and the security guards had been forced to overpower the attacker.

In another incident, a defense lawyer, who was in the middle of a debate with the prosecution, claimed the judge threw a pin at him, but Mintekovich said that the pin slipped from his hand while he was playing with it.