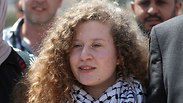 Tamimi after being released from prison
Photo: EPA
Tamimi: 'Everyone should slap soldiers, not just me'
Palestinian teen provocateur Ahed Tamimi, who was imprisoned in Israel for attacking 2 IDF soldiers, encourages others to follow her example in interview in Tunisia: 'We should always be slapping soldiers, wherever they may be, regardless of whether they did anything or not.'
Palestinian teen provocateur Ahed Tamimi, who served an 8-month prison sentence after attacking two IDF soldiers in the village of Nabi Salih, has encouraged others to follow her example in an interview in Tunisia, saying "We should all be slapping soldiers, not just me."

In an October 2 interview with the Tunisian Musaique FM radio channel, which was posted by The Middle East Media Research Institute (MEMRI) on Thursday, Tamimi goes on to say that "What I did should be a regular thing. We should always be slapping soldiers, wherever they may be, regardless of whether they did anything or not."

"Ultimately, these are occupying soldiers. They occupied our land, and they shoot at little children and target homes and people," she added. "So this is a natural reaction to the presence of the occupation, to the presence of soldiers on my land. Everybody should be slapping soldiers."

Tamimi also noted she "pledged to continue on the path of the martyrs" and "to continue to make sacrifices, even sacrificing my life, for the sake of liberating Palestine."

In an interview the next day on the Tunisian Nessma TV channel, Tamimi rejected the two-state solution, vowing "We, as a generation, will fight for the liberation of Palestine in its entirety."