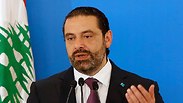 Lebanese Prime Minister Saad Hariri
Photo: AFP
There really is no reason to be jealous of Lebanese Prime Minister Saad Hariri. It is true he has a parliament in Beirut, but he does not have a government. Lebanon's economy is in a very bad shape, and desperately needs outside aid but international institutions have made it clear they will not come to the rescue until a Lebanese government is formed and ministers are appointed.
Meanwhile, Hezbollah is stalling the establishment of that government by demanding at least one minister to represent the terror organization.
Hariri's response to this demand was "over my dead body." This response triggered a series of terrible emails from former minister Wiam Wahhab, who reminded him what had happened to his father, ex-prime minister Rafik Hariri, assassinated in the heart of Beirut in 2005. Wahhab was sued for libel by Hariri's supporters.
Lebanon is finding itself isolated from former allies.
Following Israel's discovery of Hezbollah's cross-border tunnels and its subsequent warnings, Russia also had harsh words for Beirut, echoed by the United States and the United Nations. There were also surprising statements of support for Israel from Saudi Arabia and the Gulf states.
This new solidarity with Israel is amazing, while Hariri is left griping to the heads of European international organizations. In the meantime, the UN warns of possible new economic sanctions over terrorist Jawad Nasrallah, the son of Hezbollah Secretary-General Hassan Nasrallah, and 10 other senior Hezbollah officials.
Truth be told, it doesn't really matter for how long Hezbollah has been busy digging tunnels from Lebanon to Israel, what's important is how Prime Minister Benjamin Netanyahu turns them into political leverage. It's enough to watch Sunday's coverage of the tunnels by CNN to understand the tide is not only turning against Hezbollah, but that the responsibility for keeping Lebanon on track is placed on the regime in Beirut, which also is seen responsible for the tunnels. (Ironically, the Lebanese use the catchphrase "I'm in the tunnel" when they want to say they have a problem, and "I'm out of the tunnel" when that problem is solved.)
A Hezbollah member caught on camera by the IDF (צילום: דובר צה"ל)
The most surprising thing is that the Lebanese media is also daring to voice its disapproval of the tunnels, calling on Lebanon's army to block them and warning Hezbollah it is entangling the country in a potential conflict.
Public servants in Beirut say they have enough problems. Well, here is a new one: Israel initiated a special discussion at the UN Security Council about the four cross-border tunnels the IDF has exposed since it launched Operation Northern Shield at the beginning of December.
Lebanon knows, exactly as does Israel, that the tunnels are a minor problem. Israel showed restraint on this issue in the past, and decided to expose them now on purpose, for obvious reasons.
The truly worrying fact, for a substantial part of Lebanon's residents, is Iran's efforts to seize their country. If this happens, and Iran moves large forces into Lebanon, Israel will never look the other way.