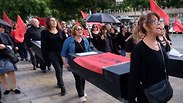 Women protest against domestic violence , December 2018.
Photo: Shaul Golan
"Does my teacher know where I am?" asks six-year-old Tahel during lunch. "I'm sure all my friends are sad because I'm not there."
Tahel and her siblings arrived at the battered women's shelter straight from school. "The social worker put us on a taxi, and we met mom here," says her 10-year-old sister Hodaya.
Adjusting to the shelter is difficult for the four children. Their beloved toys and all their belongings were left behind, and they're not even wearing their own clothes. It's been several weeks, and some of them still don't have new schools to go to.
I lived with them for 48 hours, and learned the true meaning of the word shelter. Every single one of these women is in a life-threatening situation. Each could have been a gruesome statistic—one of the 25 woman who were murdered in Israel in 2018.
In here they're protected, and at some point—maybe six months, maybe more—they'll depart to make a new life for themselves, hoping that the past never comes back to haunt them.
I arrived on a Sunday morning. This is one of 14 such shelters in Israel, all funded by the Ministry of Welfare and operated by different NGOs. This one is operated by Na'amat, the largest and leading women's rights movement in Israel. The location of the place remains a secret, so that men whose whose wives escaped by the skin of their teeth don't even think of looking for the place. All names and details have also been changed.
I cross massive metal gates covered with bushes that hide everything that happens inside. There's security cameras everywhere. I'm buzzed in only after a thorough identification process. Shelter manager Yael Levin welcomes me, and gives me a briefing about the place I'm about to enter.
"Shelters were founded well before the government started addressing the issue of domestic violence. Before they even passed the Prevention of Domestic Violence Law, and before any state funding," Levin says. "Two shelters are for the Arab community, two others are run by the Bat Melech organization, and are for the religious and ultra-Orthodox public. The others are for all kinds of women and families."
Apparently, shelters also have criteria for accepting women. "For instance," Levin says, "women who are addicted to alcohol or drugs, or that there are any other conditions preventing them from living around children, are not accepted."
Inside, I meet 11 mothers and 19 children, who come from very different communities. The place can house up to 12 families at a time, and has a large, impressive living room with plush sofas to cuddle on. I can smell home cooking coming from down the hall, and there's a massive dining room further in, immaculately set for lunch.
Each woman gets a large room with a toilet, shower and a locked door, and that's her family's private space. Outside there's a big back yard with plenty of toys, and a kindergarten for the babies and young children.
When I look around, I see vibrant life. It appears that living here makes children accustomed to strangers. They ask me questions, tell me about themselves and treat each other like family.
Yaniv, a five-year-old boy from a family of Russian descent, plays and takes care of two-year-old Raphael, whose family is from Ethiopia. No one assigned him this responsibility—he took it upon himself. In another corner, four-year-old Musa teaches six-year-old Daniel how to count in Arabic.
Adva and Daphna are the social workers who run the place, and their empathy is evident. When they speak of a resident, it sounds like they're talking about a sister or a friend who's in trouble. They're here for these women professionally, but also emotionally, and it's clear they enjoy their company and even love them.
"Some women aren't even told by welfare services where the shelter is, fearing they share this information, and then we won't be able to protect them," Levin says.
When a woman comes here, she has to immediately give up her phone, in case outside forces try to confuse her, threaten her or put any kind of pressure on her in this vulnerable position. Only after a month, when she's stronger, she gets her phone back, and an accompanying social worker is informed if the woman has received any threatening messages, promises or pleas from a partner or his family.
"It's not simple," Adva says. "I have to allow them their privacy, but still make sure they're protected, and strong enough not to be tempted to answer back or just get up and leave."
Some women do leave early on in the process. It isn't easy leaving everything behind and becoming dependent on the system, after having your own life. People from the outside might not get it.
But, says Levin, women who do get up and leave often return later on. Ravit is here for the second time: "I escaped the first shelter because I believed my husband's promises," she says. "He said he was sorry and I was stupid enough to be persuaded. I ended up coming back after he beat me until I passed out, while I was far along in my pregnancy."
Women stay here between six months and a year, and they're the ones who decide when to leave.
"There are extreme, chilling cases," says Levin. "Last year we had to get a young woman out of the country. It was the only way to protect her; her family was doing the best they could in order to kill her. They had gasoline ready. She was an intelligent young woman with no children. We raised funds and sent her away to save her life."
Lunch looks delicious, diverse and nutritional. Everyone sits at the tables, as does Dodi, the housemother, known as "the mother of mothers" in the shelter. She takes care of everyone in the house and the building itself. She dispenses warm hugs, but also admonishments if needed.
There's a fellowship that developed here, that has its own rules and traditions. When a child finishes eating, he says so out loud, and gets a round of applause from everyone. Then the child is excused from the table—with a big proud smile. I waited for those precious grins at every meal.
After lunch, I hear an excited little girl talking to her mother about going to the "connection center." "Daddy said we'll celebrate my birthday there, together!," she says. I'm baffled about this connection with the violent, dangerous father. However, Adva says keeping contact with the fathers, if possible, is important for the children.
"The situation is complicated, because there's a frustrated, angry husband left behind, who feels that his life and family fell apart. It's important for us preserve a connection with the father, the children need it," Adva says.
"People think we're this feminist organization that strives to distance children from their father, but that's far from true. If it's possible, we'll always try to encourage meetings between him and the children," she adds.
I look around and see that for these children, dad is still dad—even if he wronged them. Preserving these relationships makes fathers aware that they have something to lose—making them less dangerous for their wives.
Women that come here usually have a difficult background story, like financial troubles, or a complex relationship with their parents. They often need intensive help after the traumas they experienced—and sometimes that includes helping with parenting, in cases where a woman is depressed and can't perform daily routines. "We believe in them and in their ability, and we encourage them. No one stays in her pajamas in this house," says Dodi.
One of the women, Sarah, comes to chat while her baby takes a nap after lunch. She's 30 and beautiful, but with a sad look on her face. "I only filed a complaint against my husband when things became critical," she says and then falls silent. It's obviously difficult for her to talk about her husband. "He raped me, brutally. At the hospital, doctors sent social workers, and he was arrested."
"When they offered to send me to a shelter I refused, but just as I was leaving, the police called me and said he was out. I was paralyzed. I turned around and told the social worker I accepted," says Sarah.
These things happen. Rapists go free, and the entire law enforcement system fails time and again in protecting women and children from violence, pedophiles, rapists. Women like Sarah have to hide in order to survive.
"He's obsessive about me. I was so scared, I didn't even go home to pack," Sarah says. Relatives weren't an option—since her husband would have found her there.
This afternoon, the children are excited. It's Hanukkah, and they've been waiting all day for a group of police officers to celebrate with them. The officers bring a feeling of hope, protection, authority. They come bearing candy—and lots of it—and a DJ sweeps the crowd onto the dance floor, while the children laugh joyfully.
After the party and dinner, the exhausted children go to bed. The older ones get anm extra 30 minutes, and then all the lights are out. The mothers then venture out of their rooms, and with a little teamwork they clean the house thoroughly. I sit with Nur as everyone else cleans. She's young but has several children, and has been here for a while.
"I grew up in a broken home," Nur says. "Marriage was my escape. I was a kid; I didn't understand what I was getting into. He was older than I was, and I had my first daughter when I was 16."
Nur tells of life by her husband's side: he used to shoot into the walls of the house to scare her. He was also involved in a well-known criminal affair, and is now in prison. Still, she remains in the shelter: "His family threatened me, they want revenge. They blame me for this criminal affair, but I had nothing to do with it."
"Welfare services didn't want to help me because my husband was violent towards the social worker. Why am I to blame for this?" Nur says. "I thought that would make them understand how dangerous he is, but they decided to avoid the case so they wouldn't have to deal with him. So I'm here for now, but the future is unclear—I fear the day he gets out."
The women finish cleaning and sit together in the living room. This is their time to themselves. In evenings they can finally be the young women they are—nearly all of them are in their early twenties—hang out and laugh at silly things. They talk about life before the shelter, about politics, about the children. They make fun of Miriam, an Ethiopian woman, who's always afraid when they watch movies together, and try to persuade her to make her "special tea" with all kinds of herbs.
We hear a child's cry from one of the rooms. They all know who's child it is, immediately. "We were all in the same black hole. We understand each other," they say. Their support for each other is amazing. "We keep each other strong."
The doorbell rings. Some neighbors sent Hanukkah donuts, while others made a whole meal for the girls. Apparently, they know it's a shelter, and often send clothes and food, anonymously. The girls are excited at the gesture.
"At first it was difficult for me, I felt needy. But now I understand that this is where I am right now, and that I have no choice," Sarah says.
The next morning, some children go with their mothers to run errands, for walks or to the "connection center." Some stay behind, and look with envy at the others. "I've been here for two weeks straight," says Hodaya angrily. She has a tutor, until the right school is found for her. Tahel misses her mother's iPhone.
I look at these women, their red teary eyes, struggling to recover, after having given up so much to save themselves and their children. The little they do have they give to the little ones, even while they experience immense pain. I also see how impossible this would have been without the devotion of the staff here, who have personal therapy sessions with all the women.
It's been 48 hours and it's time to leave. When I got here, I imagined I'll be meeting frail women, victims. But I was wrong. The women in the shelter are strong, smart, and most of all—brave. I struggled with the claustrophobic feeling of being closed off here, and I was only in for two days. I imagine how they must feel, after days, weeks and even months.
I leave with a sense of relief, and can't help but wonder at the injustice. Why are these women shut up in here, separated from their lives, instead of the violent men who threaten them? Wouldn't it be easier and safer to treat them in their own homes?
Galia Volokh, Naamat's Chairwoman, agrees. "After recent protests, and following the murder of several women, it's disturbing to get this reality check—the victims are the ones who have give up their freedom, while the offenders are out there."
"But sometimes we sometimes have to put justice aside in order to save lives," Volokh says. "Shelters should be the last resort, there should be as few women in shelters as possible and as many violent men behind bars as possible."
"The December protests finally stirred something," Volokh says of the recent mass protests against domestic violence. "The government is finally going to execute the electronic handcuffs program, that has been waiting for several years. This could prevent many women and children from fleeing their homes."
But this isn't enough, Valakh says. "We need a changes of national priorities in order to handle gender-based violence. The recent protests, I hope, weren't a one-time thing. I want to believe we can get the Israeli government to supply the appropriate resources to finally implement the emergency program that's been sitting in a drawer for years."