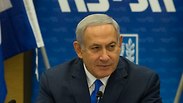 Prime Minister Benjamin Netanyahu
Photo: Amit Shabi
If I was one of Attorney General Avichai Mandelblit's advisors, I would advise him to stop reading the newspapers as of today, and start watching the television and returning politicians' phone calls instead. He has a tough call to make — deciding on which charges, if any, the state will indict Prime Minister Benjamin Netanyahu and the others embroiled in his multiple criminal investigations. The decision-making process must neither be contaminated, nor influenced by the election date or election campaigns.

Nothing can separate the elections from the attorney general's decision, and no decision will be to everyone's satisfaction. If Mandelblit decides to postpone the decision until after the elections, many Israelis will wonder —and justifiably so—for whom are they being asked to vote. Is it for a man who is facing charges of bribery or for a man who is facing lesser charges? They will ask whether they are voting for someone whose criminal cases are about to be closed due to the fact that "there is nothing, because there was nothing," according to Netanyahu's oft-repeated mantra.

Will the prime minister announce his resignation when Mandelblit's decision is released? Will a deal be reached? Will his future coalition

partners abandon him if he has already formed a government? Will Netanyahu even be the Likud's ultimate candidate or does his candidacy depend on the outcome of these investigations?

Even those opposed to Netanyahu don't really know what they are voting for. Those going to the polls must surely wonder whether by giving their vote to Yesh Atid's Yair Lapid, or former IDF chief of staff Benny Gantz, or Zionist Union's Avi Gabbay, they are voting for a party that will join the coalition once the Netanyahu era is over, or are they voting for a party that will sit in the opposition no matter how things unfold in Likud.

Moreover, Likud's satellite parties — Jewish Home, Yisrael Beiteinu and Kulanu—will be obligated to explain to their voters the nature of their commitment to Netanyahu, and whether they will continue working with him should any indictments be filed. It appears this situation is convenient for Netanyahu. The right wing wants to see him continuing his tenure. Those on the right who do doubt him risk losing votes.

If Mandelblit decides to release his decision in the run-up to the elections, he will be attacked by all of the candidates on the Likud list, first and foremost Netanyahu. They will surely demand to know by what right Mandelblit is meddling in the elections, and how dare he disgrace the man running for prime minister, the man chosen by the people, without a shred of evidence presented to the courts and before a hearing has even been held.

In the best-case scenario, they would compare Mandelblit to former FBI head James Comey, who helped sabotage Hillary Clinton's chances in 2016 by making a series of miserable decisions in the days before the US presidential election. In the worst-case scenario, they would call Mandelblit a traitor, and he would be driven out of his synagogue in Petah Tikva.

Elections are an ongoing process. Many vote-changing events can occur at any point before Election Day on April 9, 2019. In the meantime, it appears that the election will focus on one man and his investigations. Netanyahu will be the main issue. No prime minister before him, not even David Ben-Gurion, has played such a dominant role in an election campaign ("Say yes to the old man" was the Mapai party's slogan during Ben-Gurion's days, not "Say yes to the old man even if he took bribes.")

Netanyahu's u-turn — going from vehemently opposing early elections to fully supporting them — is meant to disrupt any move by Mandelblit and transform his decision on whether to indict him into a political issue. It may be impossible to take looming indictments out of the election campaign, but the election campaign must be taken out of the discussions on the indictments.