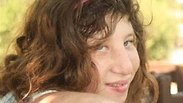 Noga Barash
Photo: Courtesy of the family
Our daughter Noga is a big sister to two healthy girls. She's been suffering from various medical conditions since birth. Now, 13 years after she was born, she is yet to receive a proper medical diagnosis that might explain her condition.

Our story begins on August 15, 2005, when, shortly after Noga was born, doctors told us that she has an abnormally small head and a displaced rectum.



They said she needed to undergo several medical tests and even surgery in the future. We felt like we were in good hands until I starting nursing her and her face turned blue. Noga was immediately taken into a special neonatal intensive care unit to receive oxygen therapy.

We spent three weeks in the intensive care unit, trying to understand how to feed Noga, who wasn't gaining enough weight. We struggled to get a proper medical diagnosis that might shed light on her condition. Just imagine, having a first child, and soon thereafter— fighting to save her life.

Eventually Noga was discharged from the hospital with a monitor and an oxygen tank but without a diagnosis. From then on, the list of medical symptoms she was experiencing kept getting longer. Doctors said she was suffering from developmental delays, acute scoliosis, and structural changes in the brain. We kept trying to put the puzzle pieces together and find a diagnosis that might explain all her symptoms.

Noga underwent several surgeries. One operation, a surgery to repair a simple eye problem, ended with pulmonary edema and with Noga's admittance into an intensive care unit. Why? We still don't know. Seeing our daughter connected to a ventilator is the image that comes to mind whenever she goes into surgery. Sadly, Noga has undergone a lot of operations, and there are still more to come.

There is no medical prognosis to explain her condition. No one knows if a certain drug or a particular treatment can help Noga or cause harm. Meanwhile, our daughter serves as a human guinea pig for drugs and medical treatments while she suffers from a variety of side effects.

 

Even today, after Noga undergone numerous surgeries and tests, no one knows how to improve her condition or prevent further damage. The lack of a proper prognosis not only affects Noga's medical condition, but our daily lives as well. Unless we 'borrow' other medical terms, such as autism or cerebral palsy, the government will not recognize her condition.

Sometimes people say: "what is the purpose of a diagnosis if you're not planning on having more children? Even if Noga's condition is diagnosed, since she suffers from a rare disease, she still won't be given proper medication."

To this we say: yes, diagnosis is important, in fact, it is crucial to several aspects in her life.

Having no diagnosis means Noga doesn't fit into any category. Therefore, even the Ministry of Education doesn't know where to place her, and so, a guinea pig once again, our daughter wanders from one education framework to the next.

Since Noga's condition isn't diagnosed, she has no peers who suffer from the same condition, to whom she can relate. Similarly, there are no family support groups, no association is willing to sponsor her, and, for a few years, she wasn't even entitled to disability benefits.

As a biologist, I worked at the Institute for Rare Diseases at the Sheba Medical Center at Tel Hashomer and encountered many families who are desperate for a diagnosis.

You find yourself going from one doctor to the next in the hopes that a new doctor can figure out what's wrong. Some children eventually receive a diagnosis, and as a result, get proper treatment.

One of the most popular songs at a children show our girls dragged us to was "don't tag me". Noga even appeared in a music video calling for equality for people with disabilities.

I agree with my daughter, people shouldn't be "tagged" or labeled, yet I want my daughter's condition to have a label, then, I might know what her future holds.

Dr. Hila Barash will deliver a lecture on the importance of diagnosis at the "Connected" conference of the Israeli Association for Child Development and Rehabilitation, which will take place between January 9 and 10 at the International Convention Center in Jerusalem.