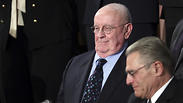 Judah Samet at the State of the Union
Photo: AP
In a rare joyful, bipartisan moment, lawmakers briefly interrupted the State of the Union on Tuesday evening to serenade a survivor of October's Pittsburgh synagogue shooting with an impromptu version of "Happy Birthday."

Judah Samet, who is also a Holocaust survivor and IDF veteran, celebrated his 81st birthday on Tuesday.

President Donald Trump saluted Samet during the State of the Union, saying Samet can still recall the moment nearly 75 years ago when he was put on a train after 10 months in a concentration camp. Suddenly the train screeched to a halt. A soldier appeared. Samet's family braced for the worst, but then his father cried out with joy, "It's the Americans."

Lawmakers jumped to their feet and applauded as Trump told the story, and they spontaneously sang "Happy Birthday." Samet smiled and shouted "thank you."

Noting the singing lawmakers, Trump told Samet that members of Congress "wouldn't do that for me."

Samet immigrated to Israel after World War II and served in the Israel Defense Forces before moving to the United States in the 1960s.

In October he escaped the shooting at Pittsburgh's Tree of Life Synagogue, in which 11 people were killed and six were wounded.

Robert Bowers, 46, stormed the synagogue during Shabbat services, yelling "All Jews must die" before opening fire using an AR-15 rifle and two handguns.

He then barricaded himself on the third floor of the building as police arrived at the scene. The gunman, as well as the four police officers, were wounded in the exchange of fire that ensued. Three of the police officers were shot and one was hurt by shrapnel.

Bowers, who was pinned down by SWAT teams, eventually surrended himself to the police, crawling to them due to his injuries.

Trump also used his State of the Union speech Tuesday night to condemn Iran for its theats to wipe Israel off the map, and vowed to battle anti--Semitism in whatever form it took.

"We will not avert our eyes from a regime that chants Death to America and threatens genocide against the Jewish people," Trump said in his 82-minute speech.

"We must never ignore the vile poison of anti-Semitism, or those who spread its venomous creed. With one voice, we must confront this hatred anywhere and everywhere it occurs," he said.