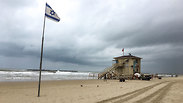 Stormy weather in Tel Aviv
Photo: Simi Azulay
Unseasonably cold weather that was recorded across Israel over the weekend will continue on Sunday with intermittent rain hitting the north before spreading to other parts of the country, according to the Meteo-Tech meteorological company.

The southeast winds in the Mediterranean Sea will reach speeds of up to 40 kph (25 mph), while the waves could reach the heights of up to 2 meters (7 feet).

On Monday there will be a mix of sun and clouds with local rain expected in northern and central Israel. The Mediterranean Seas will once again be turbulent, with the waves reaching the heights of up to two meters (7 feet).

Stormy weather across Israel (צילום : אביהו שפירא, אור עזרן, רמזי בדראן, רשות הטבע והגנים)

Tuesday will once again see unseasonably cold temperatures, with intermittent rain, accompanied by thunderstorms, hitting most parts of the country. The downpours bring a risk of flooding to eastern and southern rivers, while snowfall is expected on Mount Hermon ski resort.

On Wednesday the temperature will gradually start to warm up with a possibility of a light drizzle in some parts of northern Israel.