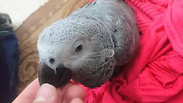 Gazan parrot undergoes life-saving operation at Israeli checkpoint
Bird's owner was told his African grey, which suffered severe burns, needed to be put down, since no veterinarian in the Strip knew how to help; in a desperate Facebook post he reached out to an Israeli wildlife NGO — that quickly organized the surgery
An ailing parrot in the blockaded Gaza Strip received treatment Tuesday from an Israeli animal rights group after its Palestinian owner appealed for help via Facebook.
Abdullah Sharaf told the Associated Press that his African grey parrot, Koki, drank bleach that burned a hole in his throat. He said local veterinarians, ill-equipped to handle specialized cases, suggested his exotic pet be put down.
The owner then wrote a post in Arabic on the NGO's Facebook page asking for help, and said he was very attached to his parrot and will do whatever he possibly can to avoid putting him down.
The Israeli NGO was happy to assist, and quickly organized all required permits for the operation. The owner brought the parrot to the checkpoint Tuesday, where the NGO organized a suitable surgery clinic — since neither of the sides can cross the border.
The surgery was performed by Dr. Shlomit Levy, the only veterinarian in Israel who is solely dedicated to the care of birds and parrots. The patient is recovering from the ordeal.
The NGO's founder Avihu Sherwood was excited to be able to help: "We've never gotten such a request, and were happy to be able to take part in something that brings people together," he said.
"We were pained to hear about the parrot's condition, and didn't see a reason to put him down if we can supply him with the medical care he needs, despite it being unavailable in Gaza," said Sherwood.
Tuesday's rescue was coordinated with COGAT, the Israeli defense body responsible for Palestinian civilian affairs.
Israel and Egypt have imposed a blockade on Gaza since the Hamas terror group seized power in 2007. Palestinians in Gaza face severe travel restrictions, making it difficult to get specialized medical treatment.