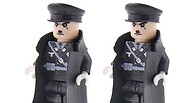 Hitler lego
Photo: Ali Express
The Chinese online retail service AliExpress is selling lego figures of Hitler and Nazi soldiers with the SS insignia. The items are available in plain sight on the shopping website and include soldiers as well as Hitler holding weapons as well as other models of Nazi military equipment.

The Nazi toys are available in single units or in packages of 10 units. The price ranges from one to three dollars per figure. Entire sets are also available for purchase. In the past, AliExpress has been found to sell shirts featuring Hitler and Hitler uniforms but they were removed following protests.

Yaakov Hagoel, Vice Chairman of the World Zionist Organization issued a statement criticizing the online shop: " "AliExpress must get their act together and remove anti-Semitic products with the image of the Nazis and Adolf Hitler. We must not offer a platform or for such hateful products, toward Jews or non-Jews."

"Many Jewish consumers of the site around the world and in the State of Israel are hurt by this and it is right that they stop selling these products and the sooner the better. If they do not see fit to remove them, I suggest that customers consider not purchasing from a site that promotes anti-Semitism," he concluded.