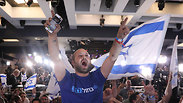 Blue and White party activists celebrate the exit polls reults
Photo: EPA
"We won, the people of Israel have spoken," said Blue and White party leader Benny Gantz on Tuesday night after the exit polls gave his party a slight advantage over the ruling Likud Party.

"These elections have a clear winner and a clear loser," said Gantz. "Netanyahu promised to win 40 seats and lost big time. The president sees the full picture and has to grant the winner the right to form a government."

"I want to thank the thousands of activists who labored throughout the campaign and more the one million voters," Gantz said.

According to the public broadcaster KAN, Blue and White will win 37 seats, while Likud will win 36 seats. Channel 12 had Blue and White also on 37 seats, but Likud fell behind with just 33.

According to Channel 13, however, both parties will win 36 seats.

Prime Minister Benjamin Netanyahu has also claimed victory, despite all exit poll giving Blue and White party the lead.

In terms of forming a government, however, both KAN and Channel 13 predict that the right-wing bloc will have more seats, while Channel 12 predicts that the two blocs are tied on 60 seats apiece.

"The rightist bloc, with Likud in the lead, is clearly the winner. I thank the citizens of Israel for their trust in me. I'll start forming a rightist government with our natural political partners tonight," said the prime minister.

The Labor party took a big blow, with exit polls giving it between 6-8 seats, after it 24 seats in the 2015 elections.

"This is a hard blow", said Shelly Yachimovich from Labor. "This is the worst the party has done since it was founded."