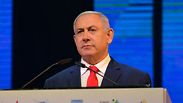 ראש הממשלה בנימין נתניהו אירוע הוקרה ל משפחה משפחות שכולות
Photo: GPO
Police investigators have interviewed an unnamed person who provided information and recordings in connection with the businesses of Benjamin Netanyahu's cousin, Nathan Milikowsky, Ynet has learned, The information relates to regarding the payment made by Netanyahu for shares in Milikowsky's company, which were purchased in 2007 for $600,000 and sold for over $4 million in 2010.
According to the information, an associate of the Milikowsky family claims that the purchase payment was in fact never made, and the transaction was meant to facilitate a transfer of money from Milikowsky to the prime minister that was never divulged to authorities.
Netanyahu's business relations with his cousin came to light when the prime minister requested financial assistance from Milikowsky to pay for his legal fees. This request was turned down by the State Comptroller Yosef Shapira.
The state comptroller's office suspects laws may have been broken and that Netanyahu did not provide an accurate account of his finances.
In run-up to the 2019 election campaign, no further steps were taken, but it is believed Attorney General Avichai Mandelblitt will instruct police to begin preliminary inquiries into these suspicions.
In response to Ynet questioning, the Prime Minister's Office released the following statement: "The prime minister paid for the stock. He was a passive investor in the company with a tiny share interest and no involvement in the company's business, its administration or in any other way. All relevant transactions were reported to the proper authorities in accordance with the law."
A subsequent comment released on behalf of the prime minister states: "The prime minister's actions were in complete compliance with the law. The police department has denied it has opened an investigation into the matter. It seems elements in the press have yet to accept the election results. Over are the days when fake news items were published simply to prompt needless investigations of Prime Minister Netanyahu."
A police spokesperson released the following statement: "The Israel Police is not responsible for information that has not been officially released. Thought we do not normally comment on investigations or lack thereof, in light of the sensitivity of these reports we would like to make clear that the police has launched no investigation or inquiry into this matter, and the testimony of an unnamed person who chose to come forward does not point to any investigation being conducted."
The Justice Ministry spokesperson said: "We do not comment on steps taken by investigative bodies including information they may have received. In the interest of clarifying any outstanding questions, there has been no decision taken yet regarding Netanyahu's stock issue, therefore, no investigation or inquiry has been launched."