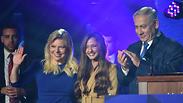 Benjamin and Sara Netanyahu with pop singer Eden Ben Zaken
Photo: Yoav Dudkevitch
Netanyahu vows to be prime minister for 'Jews and non-Jews as one'
In a luxurious event marking his elections win, the prime minister says he won't be deterred by Israeli media's 'explicit threats,' adds 'many' Arab leaders called to congratulate him; all while pop star serenades Netanyahu and his wife with a love song
In a lavish event celebrating his election victory, the prime minister vowed to be a leader for those who did not vote for him, attacked the media and boasted of receiving congratulatory messages from Arab leaders, all while being serenaded by Israeli pop stars.

Speaking at the International Convention Center in Jerusalem, Prime Minister Benjamin Netanyahu - surrounded by his Likud party members - said: "We are on the eve of forming a new government, and I will be the prime minister for everyone. Those who voted for me and those who did not."

"I want everyone in Israeli society, Jews and non-Jews as one, to be part of the success story called the State of Israel, and I want everyone to enjoy the prosperity and the progress," Netanyahu said.

The prime minister went on to say he wasn't fazed by the "explicit threats," issued by the political pundits in Israeli media.

"I'm not afraid and I won't be deterred by the media," the prime minister said. "There were respected political analysts who said I would pay a personal price if I'll appoint one of our talented friends as justice minister," he added, referring to Likud's Yariv Levin, who promised to overhaul the Justice Ministry.

"The people aren't buying it anymore, and they made their voices heard loud and clear in the elections. This is the will of the people," he said. "There are still those who have not internalized the results of the elections, the results of democracy."

Netanyahu also said "many" leaders of the Arab and Muslim world called to congratulate him on his elections win. "It wasn't just one or two, there were many leaders," he said. "There's an opportunity for a better future … all of this is based on the fact that we have turned Israel into an up-and-coming world power … a strong, independent and progressive state," Netanyahu added.

The event kicked-off in a bizarre fashion with a 24-year-old Israeli pop singer Eden Ben Zaken serenading the 69-year-old Netanyahu and his wife Sara with a song called "My Love."

Eden Ben Zaken serenaded the Netanyahu couple (צילום: משה מזרחי)

"I am excited to be here and I want to congratulate you on the elections victory, you have those who love you. Good luck," the singer said to Netanyahu after her performance.

Earlier on Tuesday, President Reuven Rivlin said that a majority of parliament members had advised him to have Netanyahu form a government after the April 9 vote, effectively ensuring his nomination. In office for the past decade, Netanyahu won a fifth term despite an announcement by Attorney General Avichai Mandelblit in February that he intends to charge the prime minister in three corruption cases. Netanyahu has denied wrongdoing.