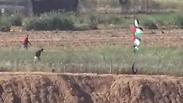 Palestinian flags on the Gaza border
Photo: TSP
The humantarian crisis in the Gaza Strip is "at breaking point," and could trigger a new wave of attacks on Israel, a senior IDF officer warned Wednesday, citing an alarming infant mortality rate of 4,900 deaths in 56,000 annual births.
According to Lt. Col. Khatib Mansour, who is charged with Palestinian affairs at the Coordinator of Government Activities in the Territories (COGAT), while the Israel-Gaza border is currently relatively quiet and Egyptian brokered agreements with Hamas are appearing to hold, civilian suffering in Gaza is great and the aid Israel allows into the coastal enclave brings little reprieve.
Speaking to Israelis who live in the area of the Gaza border, Mansour said that 97% of water sources in the Strip are polluted and electricity is only available for eight hours a day.
Suicide rates are high while anyone who can is leaving, he said.
This unsustainable situation, he warned, will manifest in an increase of attacks against Israelis.
He told his audience that IDF forces stationed along the border have noticed many of the Palestinians taking part in the violent "March of Return" weekly protests along the security fence are under the influence of drugs.
There are no prospects for the future for the youth of the Gaza Strip, Mansour said. They know no better lives, and are told by their teachers and religious leaders that Israel alone is responsible for their situation.
Gaza has been under the control of the Islamist terror group Hamas since it seized power in 2007. A recent series of protests against the organization in Gaza were met with brutal suppression. Days after the start of the protests, Hamas fired a long-range rocket into central Israel, destroying a home on Moshav Mishmeret. Israel responded with a series of airstrikes targeting the organization and other Palestinian so-called resistance groups.