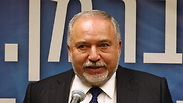 Avigdor Liberman
Photo: Ohad Zwigenberg
Liberman's political gamble could end in disaster
Analysis: Netanyahu and the Yisrael Beytenu leader go back a long way, but the last election campaign signaled a breaking point in their relationship; whether Liberman is fighting for the Haredi draft law or against Netanyahu, he could find himself in the wilderness if Israelis blame him for a new round of elections
Yisrael Beytenu leader Avigdor Liberman is causing the most serious and dramatic political drama we've had here in years. There is no historical precedence for the scenario we're witnessing: the man who won the elections is unable to sign a single coalition agreement, just two days before the final deadline granted by the president.

On Sunday, Israel's political system started acknowledging the severe crisis, and realized it is out of control. This is no spin, no false threat. No one wants yet more elections, but the country is definitely on this track.

What is Liberman thinking? Is he fighting a battle for the draft law, which defines quotas for ultra-Orthodox draftees in the IDF? Or is he fighting a battle to overthrow Benjamin Netanyahu, as the prime minister and the ultra-Orthodox parties claim?

Liberman knows Netanyahu better than any other politician. They've been side by side through many a Knesset, and have a complex relationship.

The Yisrael Beytenu head recommended Netanyahu to President Reuven Rivlin as the most suitable candidate to form the new government, but never saw the prime minister as much of an ideologist. He sees him as a leader who was able to win the votes of the right with fervent words and brilliantly polished performances, but without much content.

The campaign for the April 9 elections was the breaking point in the relationship between the two. Liberman openly accused Netanyahu for trying to hurt Yisrael Beytenu, undermine him personally and appeal to the Russian sector.

Liberman said that Israel Hayom, the pro-Netanyahu newspaper owned by American Jewish magnate Sheldon Adelson, deliberately left Yisrael Beytenu out of its polls in the final few days before the vote, and blamed Netanyahu for launching a campaign titled "don't throw away your vote, Liberman won't pass the threshold."

The prime minister indeed utilized the services of polling companies to understand the Israeli Russian sector, in an attempt to win over Liberman's voter base.

Now, Liberman is convinced that Netanyahu is considering calling new elections to finally destroy him and his political career.

Liberman has been putting the draft law first from day one of coalition talks. But Netanyahu didn't bite and instead was busy with the Immunity Law. And as Liberman said over the weekend: "Right wing does not mean personality cult."

But winds of change could blow for Liberman if the public ends up blaming him for yet another round of elections and he very well might pay the political and electoral price for his agenda.