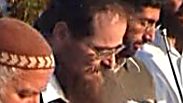 Shmuel Tal
Photo: Daniel Maman
Every once in a while, a story involving rabbis committing inappropriate acts with their male or female students comes to light, usually after attempts to stifle the embarrassing information before it bursts into the open. The most significant such case was that of Motti Alon who was charged with sexual abuse of his students and even after he paid his dues and was accepted back into the religious-Zionist community with open arms, he allegedly committed similar acts again.

The 2015 case of Ezra Sheinberg, the Safed rabbi accused of sexual offenses against women who sought to consult with him, now in prison, is another example of a rabbi taking advantage of women in his community who are emotionally and spiritually dependent on him.





Now, another case has been brought to light in the town of Yad Binyamin, which absorbed residents evacuated from Gaza Strip settlements in 2005, and their rabbi, Shmuel Tal.

Tal is considered a brilliant and charismatic leader who, following the traumatic disengagement from Gaza, ceased being a Zionist. He established an insular community in Yad Binyamin, considered to be very ascetic, with strict rules, especially in matters of modesty Some claim that it has the characteristics of a cult. The rabbi's word was absolute.

Reportedly, Ral used his position to engage in illicit relationships with women from the community. Among other things, he allegedly caused a woman to divorce her husband promising that he would then marry her and that he had received divine inspiration telling him that they would give birth to the Messiah.

The story was suppressed for several years while Rabbi Shmuel Eliyahu, Safed's chief rabbi, got involved behind the scenes. Rabbi Tal continued teaching as if nothing had happened and only after the story was leaked to the press did Rabbi Eliyahu vehemently condemn him.

As with other cases, a complex system of out of control and destructive abuse of authority was revealed. Those who granted him the power to lead also gave him the power to corrupt.
Sunlight is the best disinfectant
This saga teaches us several vital lessons: sunlight always disinfects. Always. There is no value in hiding and stifling the truth even if those involve are confident that they can air out the dirty laundry indoors. Such issues require getting to the root of the problem. Justice must not only be done but also seen and victims must feel comfortable going to the authorities.
Power corrupts
Sexual violence is not about attraction but about power. Exploitation is born out of a desire for control. The authority of rabbis and the belief in sages is important and significant but fences must be constructed and red lines recognized.

A rabbi who distances a person from his family should spark a warning sign. A rabbi who sends his students for therapy with charlatans instead of professionals is a dangerous person. A rabbi who asks someone to hold a secret that can never be revealed is a problematic individual and should be kept at a distance.
Obsessive modesty is an indicator
One who is overly obsessed with the modesty of women is someone worth keeping a distance from. From the depths of a crisis, hope can sprout if a community knows how to embrace the victims and trust them. Children should first and foremost be taught to trust their common sense and have self-confidence and only then be exposed to charismatic teachers.