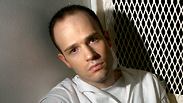 רנדי הלפרין 2003 אסיר יהודי נידון למוות עונש מוות טקסס ארה"ב אנטישמיות
Photo: AP
A Jewish American condemned to death for the murder of a police officer 19 years ago is appealing his sentence, claiming the judge in his case was anti-Semitic.
Randy Halprin filed the appeal claiming former district judge Vickers "Vic" Cunningham who sentenced him to die in 2003, regularly spoke the N-word, condemned "the (expletive) Jews" and used other slurs to describe racial minorities.
Halprin's attorneys said that, "Given his lifelong views, Judge Cunningham must have been aware that he was required to recuse himself given his bias."
Halprin, 41, is serving a 30-year sentence for violently beating a 16-month old and fracturing his skull after he escaped from a Texas prison in December 2000 as part of what became known as the "Texas 7."
The gang carried out multiple robberies, murdering Irving police officer Aubrey Hawkins during one robbery on Christmas Eve 2000. Six of the seven prisoners were caught, while the seventh committed suicide.
Halprin denied having ever fired his gun the night Hawkins was killed, but was sentenced to death based on Texas' law of parties, which allows for anyone participating in a crime to be held criminally responsible for the actions of an accomplice.
According to a Houston Chronicle report this week, Cunningham allegedly told a campaign volunteer during in a 2005 bid for Dallas County district attorney that he wanted to return the area to one in which people didn't have to worry about Jews and other minorities.
In 2018, the Dallas Morning News reported that Cunningham had set up a living trust for his children on the grounds that they married someone white, Christian and of the opposite sex.
Cunningham, 57, denied the allegations of bigotry but confirmed the existence of the trust.