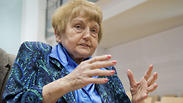 Holocaust survivor Eva Kor
Holocaust survivor and forgiveness advocate Eva Kor dies aged 85
The Romania native received international attention for saying she forgave the Nazis for killing her entire family at Auschwitz in 1944 and subjecting her to horrific experiments; Kor served 8 years in Israeli army before moving to U.S. in 1960
Holocaust survivor Eva Kor, who championed forgiveness even for those who carried out the Holocaust atrocities, has died.

The CANDLES Holocaust Museum and Education Center she founded in Indiana released a statement saying Kor died Thursday morning in Krakow, Poland, during an annual museum trip. She was 85.

"Eva Kor has touched hundreds of thousands of people over her 85 years through her message of overcoming tragedy, finding forgiveness, and healing," said The CANDLES Holocaust Museum in a statement. "Surviving the Holocaust at age 10 meant that Eva emerged from a childhood full of fear, loss, grief, and displacement."

Kor is a Jewish native of Romania who was sent in 1944 to the Auschwitz concentration camp, where most of her family was killed on the death camp's selection platform. She and her twin sister survived, but were subjected to inhumane medical experiments by Nazi doctor Josef Mengele.

She emigrated to Israel in 1950 and served eight years in the Israeli army with her sister Miriam. Eva later moved to the city of Terre Haute, Indiana after marrying an American citizen and a fellow Holocaust survivor, Michael Kor in 1960.

In 1985, she founded CANDLES, or Children of Auschwitz Nazi Deadly Lab Experiments Survivors.

Kor was the subject of several documentaries on the Holocaust and wrote at least six books about her experiences. In a documentary film, Forgiving Dr. Mengele, Kor forgave the Nazis for what they'd done to her and had since advocated the power of forgiveness.

Museum officials say the center will be closed until Tuesday in honor of Kor's memory. A public memorial service is planned.

Kor is survived by her husband and two children.