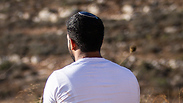 S., as he prepares to join the Naval Commando
Photo: Alex Kolomoisky
Teen wounded by Gaza rocket as baby enlists to IDF's Elite Naval Commando
'It's a miracle that I'm alive and that I was able to get into the elite unit I've always dreamed of getting into,' says S., who suffered serious wounds from 147 shrapnel pieces in 2002, when a rocket launched from the Gaza Strip hit the back yard of his home
In 2002, before the Iron Dome became a part of the Israeli reality, the city of Sderot was under near constant rocket attacks from the Gaza Strip. That year, S., then a 16-month-old baby, suffered serious wounds from more than 147 shrapnel pieces. Years later, and after a long recovery, S. is on his way to joining the IDF's Naval Commando unit.

"I just decided that I can do it," S. says. I hope to set an example Sderot teens, so that they will know that we can grow up to make our dreams come true, no matter what we endure."

S. is now 18 and bares some 60 scares from the day of his injury. He hardly remembers that day, in which one of two rockets launched from Beit Hanoun in the Gaza Strip hit his home's back yard, where he was playing. However, he says that his soul remembers everything.

"Every now and again, when I'm asleep or when I close my eyes, I hear noises and ambulance sirens, sounds things breaking. It's like in a film, like a distant memory. That's all I remember, the rest is from stories," S. says.

"I heard a blast and I went outside looking for S.," his mother recalls. "I saw him standing in the back yard covered in blood, then picked him up and ren outside, and paramedics took us to the hospital."

Miraculously, the shrapnel pieces didn't penetrate deep into S.'s body. Doctors treated him for hours and removed piece by piece, some as big as five centimeters. After a few days at the hospital, he was released, covered in bandages.

S. went through all the difficult exams the Naval Commando requires, and was excited to hear he had gotten in. "I just decided that after all that I've been through, I can make it thought these exams," he says.

"It was just a matter of decision, it took a lot of will power. It wasn't easy, but I withstood the challenge," S. says. "It's a miracle that I'm alive and that I was able to get into the elite unit I've always dreamed of getting into."

The story of S. is widely known in Sderot, and he's become a symbol in the border town. He is often invited to schools to tell his story.

Alon Davidi, Sderot's mayor, recently met with S. to wish him good luck. "I know S. since he was a boy, I've been following his story from when he was an elementary school kid, through the Yeshiva high school and now as he was able to get into the Naval Commando against all odds, in light of his injuries," Davidi says.

"His story is an example of how one can make the best even out of the most difficult circumstances."