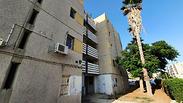 Apartment building in Ashkelon where the incident happened
Photo: Roee Idan
Baby dies after suffering fractured skull during alleged abuse by mother's boyfriend
Ziad Al-Avid, an undocumented Palestinian from the West Bank, allegedly attacked the 11-month-old in a fit of rage after his girlfriend left the baby with him to go out partying; mother asked to see her child before burial
A baby from Ashkelon who allegedly suffered horrific abuse at the hands of her mother's boyfriend died Wednesday morning of injuries that included a fractured skull.

Ziad Al-Avid, an undocumented Palestinian from the West Bank, was arrested on suspicion of attacking the 11-month-old in a fit of rage after the baby's mother went out partying and left the baby with the boyfriend.

"We are saddened to update you the baby from Ashkelon has died due to the injury which left her in a critical condition, despite the efforts of our medical team," said Soroka Medical Center in Be'er Sheva in a statement.

The mother, 22, who has remained under arrest since Monday, was informed of the baby's death and had requested to see the child one last time.

The Israel Prison Service initially denied the request. The mother's attorney, however, appealed to court that ordered the prison service officials to accompany the mother to the Forensic Institute to say goodbye to the daughter.

The father, from the nearby Bedouin community, had also been detained but was released by the police following an interrogation.

The police extended the Palestinian suspect's remand by five days. He faces charges of assault, abandonment and neglect of a minor.

"In recent months Ziad was taking great care of the baby," said the suspect's attorney, Yossi Dega. "He is in a terrible emotional state but is cooperating with investigators and has provided them with his version of events."

"He had no intention of harming the baby … It is important to emphasize that he did not abandon the baby and made sure she received medical treatment."

The 22-year-old Palestinian was the one who called the mother and alerted the neighbors after he suspected the baby suffered an injury. However, once the Magen David Adom emergency teams arrived, the suspect fled the apartment and was arrested later that day.

Dr. Yuval Kaveri, a senior pediatric intensive care unit at the Soroka Hospital, on Tuesday said the baby had undergone an operation but remains in critical condition. "We are fighting for her life," he said.