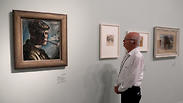 FATEFUL CHOICES: ART FROM THE GURLITT TROVE
Photo: EPA
Art looted by Nazi collector now on display in Israel Museum
Many precious pieces of art were stolen from Jewish homes by various Nazi-affiliated art dealers during the Holocaust; now an exhibition in Jerusalem is showing some of the recovered works in an effort to return them to their rightful owners
In 2012, over one thousand paintings looted from Jewish families by Nazi art dealer and collector Hildebrand Gurlitt were discovered in his grandson's home.

It was then that Cornelius Gurlitt's inherited menagerie of Jewish imagination surfaced into public view for the first time in nearly a century.

For years, Hildebrand Gurlitt, like many others, took advantage of Nazi ideology to accumulate works considered degenerate art by the Germans - works often belonging to Jewish families.




Now on display in Jerusalem's Israel Museum, a quest to discover the origins of the artwork and return them to their rightful owners is underway.

Fateful Choices art exhibition (i24NEWS)

"Hildebrand Gurlitt, who knew a lot of people outside Germany, was asked by the Nazi regime to come and sell for them works of art which they didn't want in Germany… sell them in Switzerland, in England, in America," said Shlomit Steinberg, the exhibit's curator.




Steinberg also noted that under certain paintings, visitors can see whether a search for the owner is in progress.

For now, only six paintings from the Gurlitt collection have been returned.

The exhibition, called FATEFUL CHOICES: ART FROM THE GURLITT TROVE, includes masterpieces from Monet to Courbet to Gaugin to Munch, and is open until January 20, 2020.