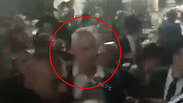 Benny Gantz at the wedding
Photo: Shalom Berger
Blue and White leader Benny Gantz came under a torrent of abuse Sunday evening as he arrived at a family wedding of a Haredi lawmaker in Bnei Brak. Protesters called him "terrorist" and told him to "go to the Arabs" over contacts with the predominantly Arab Joint List as he tries to form a coalition government.
Blue and White MK Gabi Ashkenazi was also subject to verbal attack in Ashkelon earlier Sunday, as Israel's officials marked the 24th anniversary of the murder of Prime Minister Yitzhak Rabin by an extremist Jew.
The abuse against Gantz came from supporters of Prime Minister Benjamin Netanyahu as he attended the wedding of the son of MK Yaakov Asher, the head of the United Torah Judaism faction.
Nonetheless, Gantz received a warm welcome at the event itself, as crowds surrounded him during the celebration and some attendees even sought to be photoghraphed with the former IDF chief.
Earlier Sunday, Gantz condemned the attack on Ashkenazi during a special Knesset plenum to mark the anniversary of Rabin's assassination.
"Let's not fool ourselves," said Gantz. "The shouts directed at Gabi Ashkenazi this afternoon in Ashkelon are a phenomenon we all must fight without compromise."
Prime Minister Benjamin Netanyahu also denounced the incident, but added that he faces similar abuse.
"This is a very serious incident and I strongly condemn it, but it is something that people say about me every day, calling me a traitor," said Netanyahu.
"I never heard anyone condemning threats against the life of a prime minister."