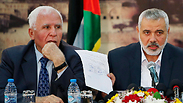 Signing unity deal in Gaza
Photo: Reuters
Israel has pressed pause on negotiations and will take steps to cause financial pain for the Palestinians, in light of an announcement Wednesday that Fatah and Hamas have reconciled and are to form a unity government, but has decided against toppling the Palestinian Authority altogether.
Prime Minister Benjamin Netanyahu convened his inner security cabinet Thursday morning for a six-hour session to discuss Israel's response to the announcement. Cabinet members heard from defense officials, and discussed ways in which Israel could present its anti-Hamas stance to the world.
"The Cabinet today unanimously decided that Israel will not negotiate with a Palestinian government backed by Hamas, a terrorist organization that calls for Israel's destruction," a statement released by the Prime Minister's Office said.
"In addition, Israel will respond to unilateral Palestinian action with a series of measures."
"Until now, we have warned them about sanctions, and now we will impose them," a political source said. "The moment they announced that they were becoming one body, negotiations became impossible. Abbas has gone a step too far. There will be no political contacts with the Palestinians."
Related stories:
Israeli chief negotiator Tzipi Livni said "sanctions will be measured. We will not cause the Palestinian Authority to collapse."
Asked to clarify whether that meant the talks were now frozen or would be called off only after a unity government was formed, another senior Israeli official told Reuters: "They are currently suspended."
The Israeli official appeared to leave open the possibility the talks could be renewed if a future Palestinian government with Hamas's participation accepted international conditions the Islamist group has long rejected.
"Abu Mazen (PA President Abbas' nickname) has formed an alliance with an organization whose covenant calls for Muslims to fight and kill Jews. Hamas has fired more than 10,000 missiles and rockets at Israeli territory and has not halted terrorist actions against Israel even for a minute," Prime Minister Benjamin Netanyahu said.
Netanyahu said the decision to form a Palestinian unity government with Hamas was "the direct continuation of the Palestinians' refusal to advance the negotiations," citing Abbas' rejecton of the proposed American framework, his refusal to discuss recognizing Israel as a Jewish State, and violating existing agreements by unilaterally applying to accede to international treaties.
"Whoever chooses the terrorism of Hamas does not want peace," Netanyahu concluded.
"Israel had no right to interfere in this issue," Erekat said. He condemned any possible Israeli sanctions as "piracy," saying the tax revenues are Palestinian money.
Coalition partner Economy Minister Naftali Bennett (Bayit Yehudi) called the decision to halt peace talks a "balanced and right decision in light of the new situation. You don't talk to murderers."
Labor MK Omer Bar-Lev slammed the decision to impose more sanctions on the Palestinians, dubbing the decision an act of cowardice.
"The prime minister and members of cabinet are reacting with panic derived of weakness. The ministers Tzipi Livni and Yair Lapid broke new records of cowardice today," he said.
Israel, whose government includes ministers opposed to the creation of any Palestinian state, canceled a session of talks with the Palestinians that had been scheduled for Wednesday.The United States reacted coolly to the reconciliation Thursday, saying it would have to reconsider its aid to the Palestinians if the deal went ahead, on the grounds that the US (along with Israel and the EU) views Hamas as a terrorist organization.
Foreign Minister Avigdor Lieberman hinted at a suspension of talks earlier Thursday, telling Israel Radio that the Hamas-Fatah unity deal spelt the end of the peace negotiations that started last summer.
.
Unexpected announcement
Israeli political and defense officials were taken by surprise by the Hamas and Fatah reconciliation announcement, leaving the government scrambling to respond, sources familiar with the Palestinian issue told Ynet on Thursday.

"We were busy with the threat by Mahmoud Abbas to dismantle the Palestinian Authority," the sources said. "The matter had been dealt with along with the Americans. The intelligence (branch) had not updated the political echelon about developments in the talks between Hamas and the PA. It was quite simply a foul-up – we didn't know what was going on."

Cabinet ministers who are very involved in the Palestinian issue were also caught off unawares by the announcement, sources said. One security source told Ynet that the defense establishment, which had been tracking contacts between Hamas and Fatah, "didn't know on which day this would happen. We didn't even know for sure that there would be an announcement."

In light of recent events, Israel's publicity machine intends to blacken Abbas' name on the international stage, even including announcements in western media outlets trying to link Abbas to Osama bin Laden. The aim is to prove to the world that Abbas is not a partner for peace, who prefers unity with an Islamist terrorist organization to reaching an agreement with Israel.

Ynetnews, AFP, Associated Press and Retuters contributed to this report.