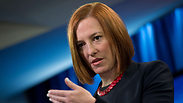 WASHINGTON - The US said Thursday it is not ready to write off Mideast peace negotiations as failed, even after Israel broke off talks with Palestinian leaders who are trying to create a coalition government with the Hamas group.

US Secretary of State John Kerry said Israeli and Palestinian leaders need to make necessary compromises so that the nine months of negotiations can continue after an April 29 deadline. If they won't, he said, peace "becomes very elusive."

"There is always a possibility to advance, but leaders need to make compromises ... If they do not wish to make the necessary compromises, it will become very difficult," the top diplomat told reporters.

Related stories:

"We will never give up our hope or our commitment for the possibilities for peace," he said. "We believe it is the only way to go. But right now, obviously, it's at a very difficult point and the leaders themselves have to make decisions. It's up to them."

State Department spokeswoman Jen Psaki refused to declare the negotiations over and said the US is "still making the effort."

Psaki noted that both Israeli and Palestinian officials have each taken unhelpful steps and caused setbacks throughout nine months of negotiations. She said it's ultimately up to both sides to decide if they want to continue the talks.

"We view it was essential that both parties exercise maximum restraint and avoid escalatory steps," she said.

"There have been many ups and downs in the process," Psaki told reporters. "We're seeking more information from the parties and we'll see what transpires over the coming days."

"There are many mechanisms for moving the process forward," she added.

She said Secretary of State John Kerry spoke Thursday with Palestinian President Mahmoud Abbas and expressed his disapproval of the plans to create a reconciliation government with Hamas, which is considered a terror organization by the US, European Union and other nations.

"The secretary noted that he was disappointed by the reconciliation announcement and repeated the elements that any Palestinian government would need to have the same principles that President Abbas has long supported," Psaki said.

"The three principles are, of course, commitment to non-violence, recognition of the State of Israel and acceptance of previous agreements and obligations between the parties," she elaborated.

Psaki said Kerry was expected to talk to Prime Minister Benjamin Netanyahu as well.

Earlier, Netanyahu said he would never negotiate with a Palestinian government that includes people who have called for the destruction of Israel, as Hamas has.

The negotiations began last summer with a goal to reach an agreement by April 29.

Since then, talks have yielded so little progress that diplomats have been trying to create a framework by that date for the talks to continue for several more months.

It was not immediately clear how long the US is now prepared to let the latest impasse continue. US negotiators will remain in the region for the time being, Psaki said.

The Associated Press contributed to this report.