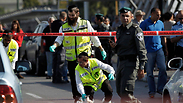 Scene of attack in Tel Aviv
Photo: Reuters
Two Israelis were stabbed to death by Palestinian terrorists in attacks in Tel Aviv and Gush Etzion on Monday. Sergeant Almog Shiloni, age 20 from Modi'in, who was stabbed on Monday afternoon after a struggle with a Palestinian who attempted to grab his weapon at the Haganah Train Station in Tel Aviv, succumbed to his wounds on Monday night at the Tel HaShomer Medical Center in Ramat Gan.
"They say that twins can sense each other," said Alomg's twin brother, Sahar. "For the last four days, I've been dreaming about death."
Sahar stayed at his brother's bedside along with the entire family – but the faint hope gave way to immense pain. "When I saw that there had been a terror attack in Tel Aviv and a soldier had been wounded, my mother called and said, 'try to get a hold of Almog,'" he said as he recalled the anxious minutes after the midday attack. "We tried to contact him, which was already a regular practice between us. I called our mom at 11:40 and she was crying, and then I understood. Since then, we have been here at Tel Hashomer."
Sahar, born five minutes before his brother, said, "Almog was a strong kid, always smiling. We celebrated our 20th birthday a month ago in a Jerusalem pub. We were sitting with our girlfriends, we laughed. I told him I hoped everything he wanted would come true. He wanted to marry Noy, his girlfriend for the last two and a half years. There are no words for how I feel right now. I can't comprehend it. His bag is here with us and I keep looking to see if maybe he's coming back."
Of policymakers, Sahar demanded: "You'd better start waking up. I understand that this country is living under the delusion that everything is fine. Today it's me, tomorrow it'll be someone else's brother. No one can really understand my pain. Only a twin would understand."
Noy, Almog's girlfriend for the last two and a half years, described their final conversation: "I was talking to him on the phone and suddenly heard his phone fall on the ground. I shouted into the phone for ten minutes, but he didn't answer. I heard someone screaming in the background that there was someone unconscious and that they were at the Haganah station. I was in Tel Aviv at school and ran over. I saw him lying on the ground covered in blood as they tried to resuscitate him. It was a terrible sight. At that point, I fainted. They took me to Ichilov Hospital in an ambulance, where they gave me sedatives. My parents brought me over here. He's an angel. He's smiling every day, a precious person."
Eyewitness accounts said the soldier was stabbed in his stomach and sustained massive blood loss. The suspect, fled, but police officers arrested him a few streets from the scene. The suspect, 18-year-old Nur al-Din Abu Khashiyeh, is a resident of Nablus illegally staying in Israel.
Gilad Goldman, in his 50s, noticed the incident and reacted immediately. "I got out of my car and saw him assaulting and stabbing the soldier. I punched him in the face. He dropped the knife and began fleeing."
Goldman's friend was also involved in stopping the attacker. "We began to chase after him, screaming 'terrorist!' We saw that he was getting away quickly, so I went back to help treat the soldier and direct traffic so emergency personnel could arrive quicker. We waited a long time until the ambulance came."
Security forces said there were no specific warnings of such an attack. It appears likely that the suspect acted alone and without planning, much like the attacks in Jerusalem.
Eli Senyor and Gilad Morag contributed to this report.