Israel Beauty Queen 2004 Gal Gadot receives her crown at last year's pageant
Photo: Tomeriko
The 20 finalists for the Israel Beauty Queen 2005 title include an Ashdod 12th grader, a Ramle salsa dancer and a Jerusalem art lover. They were selected from about 3,000 candidates who presented themselves to the contest.
The annual ceremony, at which the 56th Israel Beauty Queen will be selected, is set for April 6.
The contestants range in age from 18 to 23. Three are currently serving in the IDF, with a fourth awaiting enlistment.
The finalists are: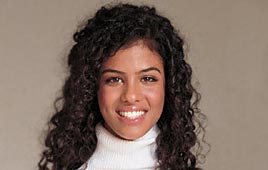 Shimrit Yehuda, 20, diving aficionado from Ashkelon.

Keren Shacham, awaiting army enlistment, from Kiryat Motzkin.

Mor Levy, 22, dance lover from Rehovot.

Odelya Lavy, 21, art lover from Jerusalem.

Anna Berngaus, 12th grader from Ashdod.

Zohar Shaked, university student from Hadera.

Rinat Dokerker, salsa dancer from Ramle.

Hila Balilti, soldier from Ashdod.

Lital Deri, 22, Spanish-speaker from Ashdod.

Yana Lisner, 18, dancer from Ashdod.

Yanina Teltzky, 23, language school (ulpan) student from Bat-Yam.

Katy Borinsky, 18, ballet dancer from Haifa.

Tal Hajaj, horseback rider from Beer Sheva.

Jennifer Bop, 19, juggler from Kiryat Bialik.

Elina Rodoy, dancer and painter from Beer Sheva.

Yelena Ralph, 21, made aliyah alone, from Ramat Gan.

Anastasia Gefker, soldier from Beer Sheva.

Moran Gerbi, 20, cosmetics saleswoman from Bat Yam.

Carolina Avramson, 18, from Kiryat Bialik.

Regina Shnitzer, soldier from Kiryat Haim.

Things you didn't know about Israel's most beautiful women

1. In the first Israeli beauty pageants, the final contestants were asked to pick out swimsuits and evening gowns from their own wardrobes, which they later wore during the contest.

2. Miryam Yaron was 21 years old and a new mother who was still breast-feeding when she won the title of "Israel's first beauty queen."

3. 1976 Miss Universe Rina Mor passed the initial selections for the contest even though she was 12 kilos (about 26 pounds) overweight; she lost the weight prior to the competition by going on a crash diet.

4. Identical twins Sarah and Miryam Talmi were both crowned as Miss Charm in 1963.

5. Limor Abarjil, the most beautiful woman in the world in 1998, participated a year earlier in the local "Newcomer of the Year" contest, where she won second prize.

Ynetnews readers are invited to select their candidate for Israel Beauty Queen, and we will report the results.
Ynet, and Yedioth Group magazine La Isha (The Woman), are among the event's sponsors