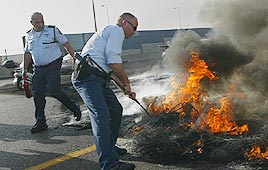 Police battle burning tires in Tel Aviv
Photo: Avi Cohen
Right-wing protesters burned tires during the Sunday morning rush hour in downtown Tel Aviv, shutting down a major traffic artery for the third time in recent weeks to protest the Gaza disengagement plan.

Police say traffic was stopped in both directions for less than 20 minutes before officers managed to re-open the road. But heavy traffic jams remain on the freeway.

25 people were arrested while fleeing the scene on suspicion of disrupting the peace, several with bottles containing flammable materials. Others were removed from a taxi during a routine roadblock check.

Response time key

Tel Aviv Police Chief David Tzur said his department was not surprised at the disturbance. "We suspected that with the demonstration in Jerusalem (a right-wing march to the Temple Mount), something might go down here," he said.

Tzur said the road was blocked for about 10 minutes, and stressed the department could not always predict the movements of anti-disengagement activists. But he said it is important to concentrate on the speed with which police were able to respond.

The protest was the second time the Ayalon Freeway has been targeted by anti-disengagement protesters in recent weeks. Protesters have also shut down the coastal road.

Following the first Ayalon incident, 16 indictments were filed for disturbing the peace, including 16 adults and five minors.