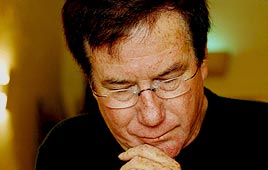 'Teacher, instructor and friend'
Photo: Avigail Uzi
TEL AVIV - Renowned Israeli songwriter and Israel Prize laureate Ehud Manor died of heart failure Tuesday at age 64.

Over the years, Manor wrote hundreds of songs and translated and wrote dozens of plays and creative works.

His songs, such as "Ein li eretz aheret" ("I have no other land") and "Ad sof hakaitz" (Until the end of summer), which were written for Israel's finest performers, have become cornerstones of Israeli culture.

In 1998, Manor became an Israel Prize laureate for his contribution to Israeli songwriting.

'Teacher, instructor, friend'

Close friend Yoav Ginai said he had known Manor since the age of 15, after arriving at "Kol Yisrael" (Israel's official radio station).

"He was a teacher, an instructor and friend," he said, adding that Manor's energy and creativity was rare to find.

"His songs have entered our blood and will never leave," he said.

In response to Manor's passing, Education Minister Limor Livnat said the entire country mourns his death.

"Manor enriched us with hundreds of songs and translations that became an integral part of the Israeli identity," she said. "This huge heart that gave the Israeli nation so much is now silenced and what is left is a large space and longing for the child from Binyamina whose radiance touched us."

Radio, television, songs

Manor began his music career as a song writer toward the end of the 1960s and quickly became an integral part of Israeli culture, writing for well-known artists ssuch as Mati Kaspi, Zvika Pik and Chava Alberstein.

During that time, Manor also began translating successful plays and texts into Hebrew, including "Hair," "Cat on a hot tin roof" and "Chicago."

Besides writing, Manor also edited radio programs for "Kol Yisrael" and hosted a number of television shows.

The kid from Binyamina

Just last week Bar Ilan University announced its decision to award Manor an honorary doctorate.

"There is nothing more natural than to award Manor the title for his creativity, personality and actions," University President Moshe Kaveh said. "He expresses everything that is good about this country."

Manor was born in Israel and grew up in the town of Binyamina, north of Tel Aviv, a place he often referred to in his songs.

His father died when he was 15 years-old, and his younger brother Yehuda was killed in the War of Attrition, an event that inspired him to write the moving song "Achi hatzair Yehuda" (My younger brother,Yehuda.)

Manor was diagnosed with cancer a few years ago, but was in remission.