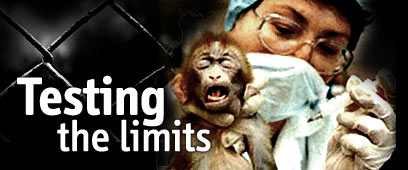 Anti-vivisection demonstration
Photo: Society for the Abolition of Vivisection

Anat Refua tries to make a difference
Photo: Society for the Abolition of Vivisection
TEL AVIV - A small crowd of predominantly young people huddles outside the "Jewish Princess" bar in central Tel Aviv, waiting to be summoned in for the beginning of a Society for the Abolition of Vivisection member-recruitment meeting.

Animal Cruelty

By Tal Eitan and Dan Bentsur

Israeli wildlife protection organizations are scheduled to hold a demonstration on Tuesday, March 15 at 3 P.M. (8 A.M. EST) in front of the Canadian Embassy in Tel Aviv, in protest of the government authorized commercial slaughter of hundreds of thousands of Harp seals in north Canada, which is expected to reach its peak during the spring

One participant arrives on his bicycle, wearing a Mohawk-style haircut and a T-shirt with a photo of the Knesset and the words "Terror Infrastructure" printed on the front, and a photo of a caged monkey and the words, "As long as they are not free, no one is free," printed on the back.

A 'beautiful' new guillotine

The Knesset T-shirt is especially fitting, as the grassroots organization is fighting what is sees as an uphill battle against what it considers to be the wealthy powers that are supporting the Israeli vivisection industry. Vivisection is the practice of animal experimentation, and more specifically, of cutting or operating on living animals for physiological or pathological investigations.

"The purpose of this meeting is that everyone will know exactly what they are supposed to do tomorrow morning," spokeswoman Anat Refua says as the meeting commences. "The moment we put down our guard and cease to act at the public level, they will defeat us."

She says the organization is in need of ideas on how to fight the vivisection industry, specifically Harlan Sprague Dawley Inc., which provides research centers and universities with laboratory animals and apparatus.

"They recently came out with a 'beautiful' new guillotine model (used to kill animals when they are not needed anymore) which comes in a variety of colors," she says.

Refuah says the organization must remain focused on specific issues, as its resources are limited.

"We don't have money and we don't have enough people, and therefore we must concentrate our efforts on shutting down the Mazor farm (a supplier of lab monkeys) and act against the imminent monkey experiments at the new brain research center at Bar-Ilan University," she says.

"It is us, the simple, ordinary people, against the professors; but we have justice on our side."

Anti-vivisection street theater

The metal cages at the new Leslie and Susan Gonda (Goldschmied) Brain Research Center at Bar-Ilan University have already been prepared for the monkeys that are set to arrive soon. They seem barely large enough for the primates to be able to move their limbs in.

"They easily could have acquired bigger cages," Refuah says. "But that would make it more difficult to seize the terrified monkeys when they want to experiment on them."

As the Society for the Abolition of Vivisection meeting draws to a close, a cigarette-puffing participant offers the organization an ad campaign she designed against animal-testing in the cosmetics industry, and Society board member Efrat Simon says she needs volunteers to act in anti-vivisection street theater performances.

Refuah says it is time to vacate the premises, as the bar owner is expecting regular customers anytime now. Pamphlets and brochures are handed out, small donations are accepted, and the animal rights warriors disperse into the warm Tel Aviv night.