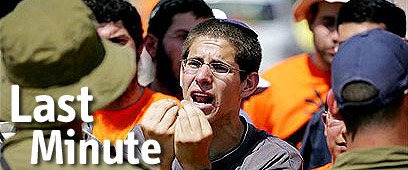 Preparing for pullout
Photo: AP
After all the preparations, training exercises and trial runs, the IDF says it is ready for it's largest non-combat exercise ever – evacuating Israeli citizens from their homes in the Gaza Strip and northern West Bank.

In less than 24 hours, the army, police, border police and ministry of defense will begin to move.

Over the first two days, the most critical time in the eyes of the defense establishment, residents will be called to leave their houses, and all requests for logistical assistance will be provided by security forces.

Not so fast

IDF prepares 'soft face' of withdrawal, officer to politely knock on door to serve eviction notice; settlers to launch effort to thwart operation

Beginning Wednesday, residents will be evicted by force, a reality that could lead to violence.

"We must succeed in this mission," a senior IDF officer told Ynet Sunday, "and we feel that we will be. May we not need any of the tactics we've learned."

Helping hand

Operation Hand to a Brother will feature mixed teams of IDF and police officers, moving from house-to-house to serve eviction notices.

"We'll speak to them, offer any help we can, explain to them they'll be better off if they pack their own things and leave now, in their own cars," said several IDF officials.

IDF officials also believe that during the first two days of the pullout, many families still left in Gush Katif will leave of their own accord.

"(Most people) do not want to fight with the soldiers that have been protecting them. Some are not capable of leaving by themselves, and are waiting for the knock on the door."

"We'll be there for them. We'll take things down from the attic, and help with anything they ask."

Wednesday: eviction by force

Operation Hand to a Brother will continue until Wednesday, August 17 at noon. At that time, IDF officials will analyze the situation vis-à-vis remaining residents and protesters in each settlement.

Then, security forces will make final plans to remove people by force.

In general, the army would prefer not to begin with hard-core settlers in Kfar Darom, Netzarim or Shirat Hayam, who have promised to block IDF entry into their communities if and when they come to evict them..

They would also prefer not to hit targets the settlers view as symbols as the operation gets under way.