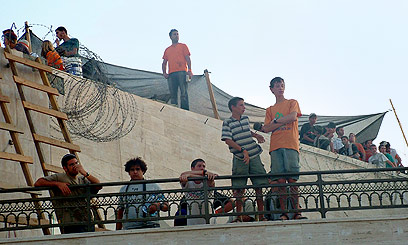 Evacuating Kfar Darom: First step?
Photo: Ilan Marciano
Secretary of State Condoleezza Rice said Wednesday she "empathizes" with Gush Katif families removed from their homes as part of Israel's withdrawal from the Gaza Strip, but added the United States expects the pullout to be followed by other, similar, moves.
Speaking to the New York Times, Rice called Prime Minister Ariel Sharon "enormously courageous" and said the pullout represented a"dramatic moment in the history of theMiedle East."
But she also warned, "It cannot be Gaza only," and clarified that the Bush administration expects the IDF to withdraw from Palestinian cities in the West Bank following the Gaza operation.
Hamas rearming
Rice also referred to efforts currently under way by Palestinian terrorist organizations to build up infrastructure and rearm in preparation for a resumption in terrorist activities, predicted by Israeli intelligence officials next spring.
Pullout Begins
Palestinian national security advisor says Americans pledged to continue road map implementation, adds he hopes for political, economic assistance from Arab states
"I don't doubt that Hamas is training and increasing its capacity to cause trouble as a terrorist organization," she said.
Rice also made it clear she expected the PA to dismantle militant groups. "That is their obligation under the road map."
Dramatic change
Rice also discussed other issues on the Bush Administration's agenda for the region, including Iran, Syria and Afghanistan.
"Something very dramatic is changing in the Middle East," she said, "and it is changing in the direction of - and I only say in the direction of - more open, more pluralistic, contested political environment."
She went on to detail the effects of Bush's efforts to push for democracy.
"The Iraqi referendum, followed by Iraqi elections; Afghan elections for the parliament; Egyptian contested elections for the first time.
"You've also had the withdrawal of the Syrians from Lebanon and the elections in Lebanon. We've got reform efforts that we are tracking in Jordan. And of course women have the right to vote for the first time in Kuwait," she said.
Iran looming
But despite the optimistic progress report about democracy, Rice said all is not well in the region, namely Iran.
"There seems to be very strong international consensus that an Iran that has behaved the way that it has over the last couple of years really should not have a fuel cycle. We expect that the next step will be to work with others to make certain that there are consequences for that behavior, and we believe that the Security Council is the reasonable next step, " she said.